The MRC's Hypocrisy on Copyright Issues And Property Rights
Topic: Media Research Center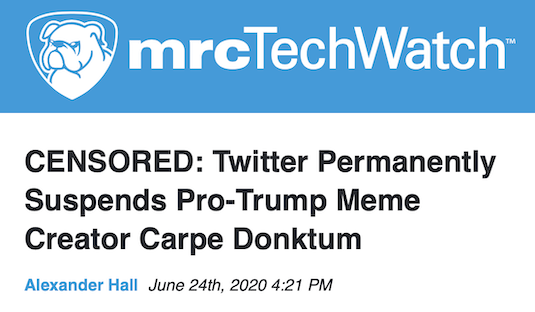 For a gorup purporting to embrace the conservative idea of private property rights, the Media Research Center sure does have a problem other people enforcing their private property rights. We saw that last November, for example, when P.J. Gladnick mocked singer Taylor Swift for wanting more control over how her music is used by others.
The MRC's big thing of late is whining about how conservatives are being "censored" when right-wing videos are taken down by social media because copyright holders for the images in them pointed out they were being used without permission.
A March 2 post featured an interview the MRC's Dan Gainor conducted with right-wing meme creator Carpe Donktum, who whined that his videos are "taken down for copyright strikes that shouldn't actually be real, you know, things that aren't actually copyrighted."
An April 24 post by Corinne Weaver complained that "a video tweeted by Trump that mocked former President Barack Obama's endorsement of Biden was reportedly deleted by Twitter, according to the Washington Examiner. The reason for the alleged removal was a 'copyright complaint.'"
A June 5 post by Alexander Hall groused that "Twitter "disabled" a video by the Trump reelection campaign, alleging a copyright violation," then gave space to a Trtump campaign spokesman to rant that ""This incident is yet another reminder that Twitter is making up the rules as they go along. From the dubious removal of the hilarious Nickelback video to capricious fact checks and manipulated media labels to questionable claims of copyright, Twitter has repeatedly failed to explain why their rules seem to only apply to the Trump campaign but not to others." Hall did not indicate that he fact-checked the spokesman's claims, though he did acknowledge a report that "Harvard University's Lumen Database, a third-party research group Twitter uses to study cease and desist letters, reviewed the complaint and found it to be valid under the Digital Millennium Copyright Act."
Under an all-caps "CENSORED" headline, Hall used a June 24 post to declare that "Twitter has continued its unabashed attacks on President Donald Trump and his allies by permanently suspending well-known, pro-Trump meme creator Carpe Donktum" after a video he made that Trump retweeted was made "inaccessible in response to 'a report by the copyright owner.'" Hall let Carpe Donktum spread a conspiracy theoryshowing "a grim portrait of the platform's ideologically driven management,"insisting without substantiation that "I have been banned for being effective" (and not, apparently, for repeated violations of other people's copyrights).
Hall whined again in a July 2 post:
Twitter has censored yet another meme posted by President Donald Trump. The company removed an image tweeted by Trump for allegedly violating its copyright policy.

Twitter has cracked down on Trump's sincere demands for order, his calls to action, and now even his jokes once again. A meme photo was posted by Trump on June 30 depicting a photo of himself, captioned with the words: "In reality they're not after me they're after you" and the phrase, "I'm just in the way."

Twitter confirmed in an email that the meme photo in question had been removed after a copyright claim. The tweet now just shows a "media not displayed" notice with the caption explaining that "[T]his image has been removed in response to a report from the copyright holder."

The meme featured a photo taken by Damon Winter for The New York Times, reported CNBC. "'Per our copyright policy, we respond to valid copyright complaints sent to us by a copyright owner or their authorized representatives,' a Twitter spokesperson [stated]," according to CNBC. "The New York Times filed the takedown notice, a company's spokesperson said."
The MRC does not explain in any of these posts why copyright holders are apperently not allowed to enforce their rights when their intellectual property is used without authorization by conservatives.
This is all hypocritical, of course -- the MRC actually does care about copyright issues when it serves its right-wing agenda. A February post by Weaver gloated that "trillion-dollar company" Google "could be in trouble for copyright infringement, according to a lawsuit from tech company Oracle" over a lawsuit accusing the search giant of having ""copied verbatim 11,000 lines of Java code and then broke Java's interoperability."
Posted by Terry K. at 2:32 PM EDT