MRC Mad That 'Murphy Brown' Counted How Many Lies Trump Has Told
Topic: Media Research Center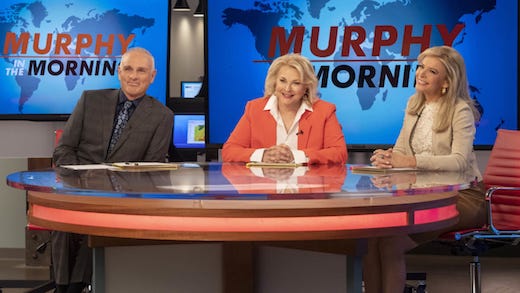 Karen Townsend served up some of that good ol' Media Research Center hate-watching in an Oct. 26 post about an episode of the rebooted "Murphy Brown":
The reboot of Murphy Brown is getting old quick. It has become a boring, paint by numbers exercise in liberal vanity, with shots (both direct and veiled) at President Trump, Melania, the Trump Hotel, and, of course, Fox News.

In the CBS show's episode titled "The Girl Who Cried Wolf" airing October 25, Murphy Brown went to a frequent gag. Murphy (Candice Bergen) is forever in need of a new assistant and the show's social media/tech guru comes up with a solution – an artificial intelligence one. Murphy is skeptical and then the techie, Pat (Nik Dodani), demonstrates by hammering Donald Trump as a liar.
Townsend then added a transcript in which the AI assistant notes that "President Trump has made false or misleading statements 5,247 times." She was apparently so bothered by this that she made this the headline of her piece: "Lame 'Murphy Brown' Hits at Trump for Lying '5,247 Times' in Office." Townsend doesn't dispute the claim, just complains that it was made.
Of course, Townsend can't dispute the claim because not only is it true, the number is actually underestimated. A few days after Townsend's post, the Washington Post reported that Trump has made 6,420 false or misleading statements since he took office.
Instead, Townsend laments: "Sadly, this show is still little more than a vehicle used to bash President Trump and conservatives, even if it's only lame remarks sprinkled into the dialogue and a silly parody of a Trump property. I'd like to think it will be better in future episodes but I'm finding it hard to believe."
It seems that hate-watching TV for the MRC is starting to take its toll on Townsend.
Posted by Terry K. at 12:34 AM EST