Armstrong Williams Doesn't Disclose His Conflict of Interest in Defending Ben Carson
Topic: WorldNetDaily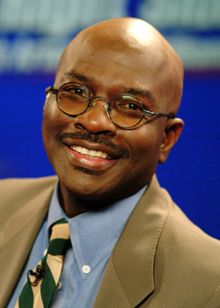 Armstrong Williams wrote a column, published Feb. 14 at Newsmax and Feb. 17 at WorldNetDaily, complaining that Ben Carson hasn't yet been given a Senate vote on his nomination to be President Trump's secretary of housing and urban development. Williams dramatically wrote:
Instead the nominee for secretary of housing and urban development, Dr. Ben Carson, is held hostage to a partisan strategy of gridlock and delay. It's not as though Carson hasn't been thoroughly vetted by Senate Democrats. Or that they have expressed substantive reasons to oppose his nomination. Prior to his confirmation hearing before the Senate Banking Committee over one month ago, the nominee spent days visiting with committee members from both parties – even though he only needed the votes of the majority – answering questions and demonstrating respect for their important role in confirming presidential nominees. At the hearing, Dr. Carson patiently and thoroughly answered questions from Democrats and Republicans for hours. Not a single Democrat announced opposition, and on Jan. 24 every Democrat on the committee, including leading progressives like Elizabeth Warren and Sherod Brown, voiced their support for Carson through a unanimous voice vote of approval.

Yet the Democratic leadership refuses to follow the lead the key committee and allow an up or down vote by the full Senate.
But Williams failed to disclose one key fact: he's Carson's business manager. According to The Hill, the two reportedly have a "brother-like" relationship, talking on the phone several times a day.
But any mention of Armstrong's link to Carson is buried in the bio for Armstrong on the respective sites. The final sentence of WND's drop-down Armstrong bio states that "Williams is a longtime confidante of Dr. Ben Carson," while the lengthy bio for Williams at Newsmax waits until the sixth paragraph (!) to reference Carson -- but only through noting that Williams is a board member of Carson's scholarship fund.
One shouldn't have to be shunted to a bio page to have this conflict of interest disclosed -- Williams should have done so in his column, and Newsmax and WND should have made sure of that before publishing it. Williams (and WND and Newsmax) shouldn't presume that everyone knows about his relationship with Carson.
Then again, Williams has a problem with playing fast and loose with such things. In 2005, it was revealed that he was paid to promote the Bush adminstration's "No Child Left Behind" policies on his TV and radio programs but failed to disclose the payments to his listeners and viewers.
Posted by Terry K. at 1:04 AM EST
Updated: Saturday, February 25, 2017 1:09 AM EST