WND Tries to Play the Watergate Card on Hillary
Topic: WorldNetDaily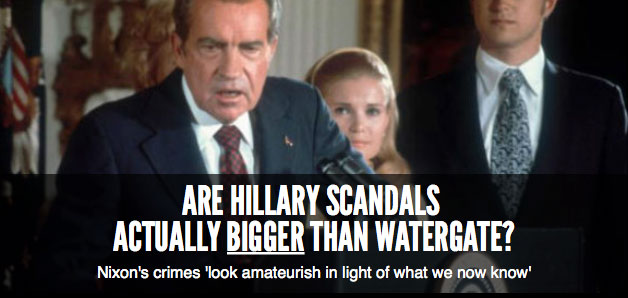 WorldNetDaily is somewhere between desperate and disengaged when it comes to the election -- its tired attacks on Hillary are like so much poo flung at the wall (i.e., tabloid trash, Corsi rants) and because nobody believes WND, none of what they're doing is sticking.
The latest attempt is to play the Watergate card. WND blitzed the issue earlier this week.
First came an article by Corsi claiming that "experts" say that "Watergate pales in comparison," citing right-wing activist Thomas Lipscomb (whom Corsi whitewashes by describing him as "the founder and publisher of New York Times Books") saying the undercover video investigation by James O'Keefe and the Wikileaks' publication of Clinton campaign chairman John Podesta's emails provide "ample proof of criminal activity that would have made both Donald Segretti and G. Gordon Liddy blush."
Corsi also cites "Democratic pollster Pat Caddell"; as we've noted, Caddell hasn't done any work for Democrats for decades and is best known these days for pretending to be one while spouting right-wing talking points on Fox News.
This was followed by an anonymously written article whining that "Hillary Clinton's campaign is trying to frame the hacking of her campaign chairman's email as a repeat of the most famous political scandal in American history – and to directly implicate Donald Trump," then asking, "Is Hillary Clinton the victim or the perpetrator of Watergate 2?Are her accusations about Watergate 2 part of the cover-up of what some, including Trump, are suggesting are 2016 political crimes bigger than the original Watergate scandal?"
Finally, WND editor is assuring us that, yes, whatever it is Hillary is doing is bigger than Watergate:
I can assure those who were not conscious at that time, those not yet born, that what is taking place in 2016 is indeed bigger and more shocking than this mythical scandal of all American political scandals. The only thing missing is any attempt at justice, prosecution of guilty parties, accountability.

There is no special prosecutor. There isn't even any national discussion about the possibility of naming one.

There are no House and Senate hearings. Instead, many Republicans are denying there is any widespread or systematic attempt at "rigging" the election.

There are, however, some Woodward and Bernstein upstarts exposing what's going on. That would be James O'Keefe and his compatriots at Project Veritas.

If James O'Keefe wanted to be rich and famous, author of a bestselling book, seeing himself portrayed on the big screen, all he would have to do is switch his focus and point of view. Unfortunately, for this courageous and intrepid young man, he's taking on a much bigger and more powerful conspiracy than did Woodward and Bernstein.

[...]

Are the "dirty tricks" of the Hillary campaign, the DNC, the White House and their allied organizations that served as black ops "plumbers" equivalent to the scandals of Watergate?

Even without the benefit of House and Senate hearings, special prosecutors and a press eager to ferret out corruption by one party in a presidential election, what we know about the fraud perpetrated by the Hillary team indeed rivals, in many ways, the seriousness and impact of Watergate.
Farah takes the opportunity to repeat his claim that Hillary, while working on the Watergate committee in the 1970s, "was fired by her boss, lifetime Democrat Jerry Zeifman, general counsel and chief of staff, for being a 'liar' and 'an unethical, dishonest lawyer.'" As we documented the last time Farah told this lie, Zeifman has admitted he didn't have the power to fire Hillary at the time, and there's no evidence she even was fired.
But, hey, nobody's ever accused Farah and WND of putting the facts before their right-wing, Hillary-hating agenda. Hating Hillary is always Job 1 at WND.
Posted by Terry K. at 12:58 AM EDT