What Is WND's Farah Lying About Today?
Topic: WorldNetDaily
I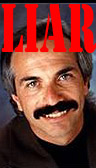 t's astonishing the extent to which WorldNetDaily editor Joseph Farah just can't stop lying.
In the midst of an Aug. 9 rant against Chelsea Clinton and her husband, Marc Mezvinsky -- unsubtly headlined "The Clinton crime family -- the 2nd generation" -- Farah huffed: "Marc and Chelsea represent the second generation of royal privilege. They're in their 30s and own a $10.5 million apartment in New York City. They got married in George Soros' mansion."
Nope: As Snopes points out, Clinton and Mezvinsky were married "at the Astor Courts in Rhinebeck, New York, an historic property owned by Kathleen Hammer and Arthur Seelbinder."
Farah also uses his column to push lies by proxy, writing:
You might also recall that Hillary Rodham Clinton served on the staff of the [Richard Nixon] House impeachment inquiry, but she was fired for ethical breaches by her boss, the late Jerry Zeifman, a lifelong Democrat and general counsel, not to mention a friend of mine in his later years.
As we first documented back in 2008, when Zeifman first surfaced to oppose Hillary's presidential bid, he's on record as saying he didn't have the power to fire Hillary from the impeachment inquiry, which makes anything else he has to say highly dubious. That also includes the fact that fact-checkers have found no evidence Hillary was fired from that inquiry -- she apparently remained on the inquiry panel until Nixon resigned from office.
Zeifman's lack of truthfulness also applies to his claim of being a "lifelong Democrat," which he appears to be trading on solely to get published on right-wing websites as a "Democrat" who bashes other Democrats. Plus, the fact that Farah is declaring that Zeifman is "a friend of mine" is a dead giveaway that he's not a real Democrat, or even a Democrat at all.
Posted by Terry K. at 5:57 PM EDT
Updated: Sunday, August 14, 2016 6:05 PM EDT