WND Censors Wacky Tabloid Link to Self-Proclaimed Hillary 'Fixer'
Topic: WorldNetDaily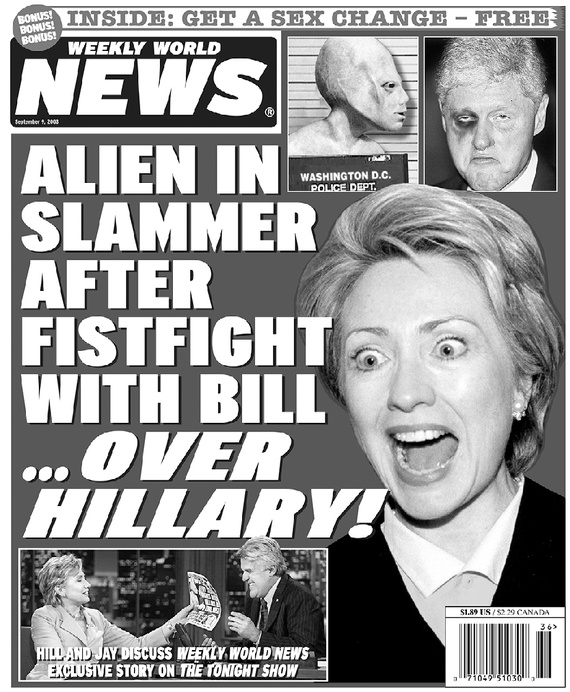 We've detailed how WorldNetDaily promoted the claim, published in the National Enquirer, of an anonymous "fixer" who did various nefarious things for Hillary Clinton in the 1990s (while hiding the fact that the supermarket tabloid with an less-than-stellar factual reputation is buddy-buddy with Donald Trump). Well, the self-proclaimed "fixer" appeared earlier this week on Fox News (of course), and WND was on top of that too:
A man claiming to be Bill and Hillary Clinton's "fixer" – hired to cover up their "dirtiest schemes," including steamy sex romps and a major scandal involving former deputy White House counsel Vince Foster – says the Clintons have an open marriage, patronize hookers, buy off news reporters and coordinated a scheme to destroy White House intern Monica Lewinsky after her affair with the president.

The "fixer," novelist Jeff Rovin, provided ledgers and faxed documents with time stamps to document some of his claims.

"I was fixing something for an actor who was in their inner circle," Rovin explained to Fox News' Sean Hannity Monday evening. "That's how I was engaged."
But WND was still censoring pertinent information. As actual news operations have reported, Rovin is a former editor of the now-defunct-but-revived-online Weekly World News, a sister publication to the Enquirer (reminding us that this is, once again, a Trump-driven hit job) best known for not even bothering with the truth, what with its stories about Bat Boy and Hillary having affairs with aliens.
WND doesn't seem to understand that promoting less-than-credible tabloid claims by someone who used to run an even-less-credible tabloid -- and treating those claims as completely factual -- is not the way one tries to rebuild lost credibility.
Posted by Terry K. at 12:41 AM EDT