AIM's Kincaid Can't Take Criticism
Topic: Accuracy in Media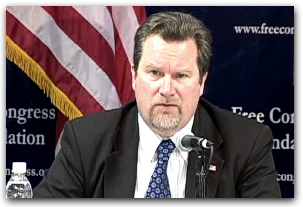 Remember last week, when Accuracy in Media's Cliff Kincaid declared the Huffington Post to be a "gay porn outlet" by cherry-picking a few erotically themed items? Well,Kincaid doesn't like the criticism he's been getting about it.
Kincaid used a March 31 AIM article to lash back and downplay what he actually did:
Not surprisingly, the pro-homosexual Huffington Post ran a glowing profile of the summit by its own correspondent, a self-described "Lesbian-Feminist, Public Intellectual PhD" by the name of Marcie Bianco. This appeared in the on-line publication's "Gay Voices" section, which has also featured a video of full frontal male nudity.

When I pointed this out recently, I was attacked by the "conservative" Daily Caller for somehow exaggerating what The Huffington Post had done. It's a sign of the times that even a "conservative" outlet is reluctant to expose the shameless promotion of homosexuality in the media. One of the main funders of The Daily Caller is a Christian by the name of Foster Friess.

At the risk of promoting this kind of repulsive "journalism," it is important to note that The Huffington Post item, Male Full-Frontal Nudity Supercut: Which Stars Have Bared It All?, which appeared in the "gay voices" section, was exactly as I described it—a form of gay porn.

But when Christians get repulsed by this kind of thing and seek to protect their families and children from it, they are singled out as bigots.
Actually, Kincaid should be taking that fact that even his fellow conservatives criticized him as a sign he went too far.
As the Daily Caller pointed out, the articles Kincaid cited to declare HuffPo to be a "gay porn outlet" weren't terribly gay or porn-y, and they didn't include nudity, which one might consider a prerequisite to be called pornography. And while the "Male Full-Frontal Nudity Supercut" does include the promised nudity, male frontal nudity by itself does not constitute pornography, and all of the clips are from major-studio or independent releases, not "gay porn" -- and very few, if any, of the clips involve sexual situations or positions.
Also, Kincaid's claim that the video was "exactly as I described it—a form of gay porn" is dishonest in another way: He simply quoted anti-gay activist Peter LaBarbera freaking out about it.
So it's not that the Daily Caller is "reluctant to expose the shameless promotion of homosexuality in the media" -- it's accurately pointing out that the content Kincaid cited isn't particularly gay.
By engaging in such kneejerk, dishonest gay-bashing, Kincaid simply makes himself look like an idiot -- and discredits his employer.
P.S. We pointed out some of this in a comment on Kincaid's article, but the comment was later deleted and we were banned from posting there. Apparently, AIM really doesn't want accuracy in media after all -- and is as intolerant of criticism as Kincaid is.
Posted by Terry K. at 10:35 PM EDT