WND's Massie: Michelle Obama Is A Filthy Whore
Topic: WorldNetDaily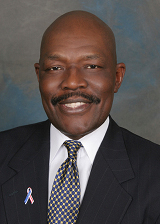 Mychal Massie has long had an irrational hatred of Michelle Obama (one word: Buttzilla). For his June 16 column, Massie hauls out his thesaurus to come up with new ways to denigrate her:
I am prepared to argue same because, if we have a white Christian conservative as president, we can criticize his (or her) policies without concern of being called racists. It would be expected of that person to adhere to the highest standards of integrity, truthfulness, transparency and protocol. A white Christian conservative's wife would be expected to exhibit social grace and decorum consistent with the office her husband held and not comport herself as a demimonde or slattern in expensive designer clothes.
A "demimonde" is, according to Merriam-Webster, "a class of women on the fringes of respectable society supported by wealthy lovers; ... the world of prostitution." A "slattern" is "an untidy slovenly woman; also : slut, prostitute."
Which means that Massie is calling Michelle Obama a filthy whore.
This is apparently the kind of thing that keeps WND paying him the big bucks.
Posted by Terry K. at 1:19 AM EDT