MRC's Graham Complains NPR Did No Weekend Features On Obama Scandals -- But CNS Didn't Either
Topic: Media Research Center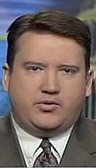 The Media Research Center's Tim Graham whines in a May 13 NewsBusters post:
How enthusiastic can NPR be in avoiding the emerging Obama scandals? Try this: So-called "All Things Considered" aired no features on Benghazi or the IRS on Saturday or Sunday. (This excludes on-the-hour news updates.) But they found time for six minutes on the trade in rhino horns.

It was more ridiculous on "Weekend Edition" Saturday and Sunday – they also skipped both. NPR correspondent Michele Kelemen reported on Secretary of State John Kerry for 4 minutes and 22 seconds without a single word about Libya.
Graham goes on to count every single feature story NPR ran on its weekend news shows, which he claims "reinforce how NPR has a deep self-love for its own focus on race, culture, and cosmopolitan globalism. They're also quite ardent about skipping over scandals that might damage their favorite liberal politicians."
But Graham makes no mention of NPR's newscasts, which run at the top and bottom of every hour. That silence tells us that NPR did mention the "emerging Obama scandals" on those newscasts, but Graham doesn't want to tell us about it because it'll ruin his biased little thesis.
Graham also seems unware of the extremely likely possibility that features set to run on NPR's weekend shows are likely pre-taped days in advance, since many NPR personnel presumably like to have their weekends off.
You know who else likes their weekends off? The folks who work at the MRC's "news" division, CNSNews.com.
You know who else didn't publish any features about "emerging Obama scandals" last weekend? CNS.
Why is Graham demanding NPR do something his own employer couldn't be bothered to do?
Why doesn't CNS lead by example? Surely it can shake a few more dollars from its wealthy right-wing donors to have a newsroom staffed outside office hours.
Posted by Terry K. at 11:14 PM EDT