Mychal Massie's Favorite Convicted Felon
Topic: WorldNetDaily
WorldNetDaily columnist Mychal Massie runs his own website, The Daily Rant, which promises "Hard Hitting Conservative Commentary." If you describe Massie's anti-Obama vitriol and depraved lies as "hard hitting," then sure.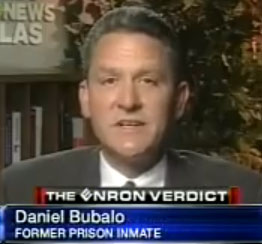 Massie has a few lower-level writers that also pump out screeds on his website. One of them is someone named Daniel J. Bubalo, who has the following bio:
Daniel J. Bubalo was hired by the venerable firm of Kidder Peabody in 1978, before becoming a shareholder and partner with Drexel Burnham Lambert in 1984. He ultimately bought his own brokerage firm and steered it successfully through the market crash of 1987 before starting a venture capital and advisory company in the early 1990's. He has been a broker, manager, owner, trader, financier, and advisor on mergers and acquisitions, and throughout his career has opined regularly about the intractable nature of government and its inextricable hold and influence on financial markets. A securities violation landed him in federal prison from 1999 to 2003 which served to only sharpen his observations, watching in dismay at the dissolution of the Glass-Steagall Act, the 2001 dot.com bubble burst without so much as an investigation or arrest, and has since lectured between 2005 and 2011 at the Neeley School of Business at Texas Christian University on government intervention and ethics, as well as being presciently critical about Sarbanes-Oxley and Dodd-Frank.
Note how quickly Bubalo glosses over the fact he spent four years in prison on what he downplayed as a "securities violation." Needless to say, theres a lot more going on than what Bubalo is telling you.
As a federal appeals court recounted in a failed appeal by one of Bubalo's co-conspirators, Bubalo was on the board of a failing orange juice maker that, in the early 1990s, had solicited investors based on fraudulent claim that it had contracts to sell goods to former Soviet countries, while Bubalo and his co-conspirators kept the investors' money for themselves. The court's ruling sums up Bubalo's crimes:
Bubalo pled guilty to securities fraud, mail fraud, engaging in a monetary transaction in criminally derived property, and conspiracy to commit securities and mail fraud. More than 400 investors lost all the money they invested in O-Jay/Omni, a total of about $4.8 million.
So, a lot more than a simple "securities violation," and seemingly worth at least four years in prison.
And there's also this intriguing entry from a 2000 Senate hearing on bankruptcy reform:
Daniel J. Bubalo of Edina, Minn., was sentenced June 8 to 21 months in prison and ordered to pay $85,000 in restitution following his conviction on two counts of bankruptcy fraud. After Bubalo's bankruptcy case was converted from Chapter 11 to Chapter 7, and without the Chapter 7 trustee's knowledge, Bubalo sold for $70,000 a Duluth, Minn., bar valued at $175,000. He later testified that the property's status had not changed since his case was converted.
This is the guy who Massie trusts to contribute to his website.
Posted by Terry K. at 8:00 AM EDT