MRC Whines That Cesar Chavez Made Groceries More Expensive
Topic: Media Research Center
The Media Reserarch Center's Culture & Media Institute weighed in on the silly controversy over Google marking Cesar Chavez's birthday over Easter by ... complaining about the price of groceries. A March 31 tweet stated of Chavez, "He isn't risen, but he did make sure the cost of our groceries have."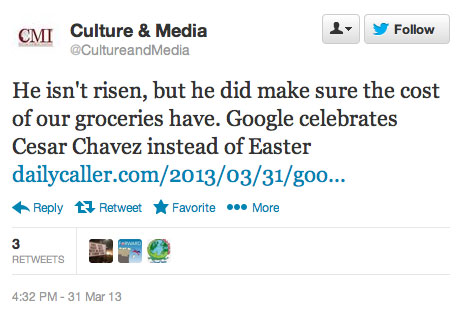 This tweet was apparently written by theMRC's Matt Philbin, since he has t
he exact tweet
on his Twitter feed. If so, Philbin is a massively ignorant person. Here's how Biography.com
summarizes
Chavez's work:
In early 1968, Chavez called for a national boycott of California table grape growers. Chavez's battle with the grape growers for improved compensation and labor conditions would last for years. At the end, Chavez and his union won several victories for the workers when many growers signed contracts with the union. He faced more challenges through the years from other growers and the Teamsters Union. All the while, he continued to oversee the union and work to advance his cause.

As a labor leader, Chavez employed nonviolent means to bring attention to the plight of farm workers. He led marches, called for boycotts and went on several hunger strikes. He also brought the national awareness to the dangers of pesticides to workers' health.
Apparently, Philbin has no problem with farm workers being poorly paid and working in harsh and dangerous conditions just so he could pay a few cents less for a head of lettuce. How selfish and nearsighted.
Then again, Philbin happily joined Rush Limbaugh's campaign of misogyny against Sandra Fluke, so being a selfish jerk must come easy to him.
Posted by Terry K. at 11:31 PM EDT
Updated: Monday, April 1, 2013 11:31 PM EDT