CNS Issues Dishonest, Petty Attack on Obama Over Thatcher Death
Topic: CNSNews.com
The Obama-hating agenda of CNSNews.com means that there is nothing too petty that can't be turned into an attack on the president.
Thus, the existence of an April 8 CNS article headlined "Obama Responded Faster to Ebert's Death Than He Did to Thatcher's." But CNS was in such a rush to smear the president that it couldn't get its facts straight.
In the original article below, the unbylined CNS article claimed that the BBC first tweeted news of Margaret Thatcher's death at "4:49," meaning that as of the article's posting at approximately 10 a.m. ET, the White House had been silent for five hours about Thatcher's death.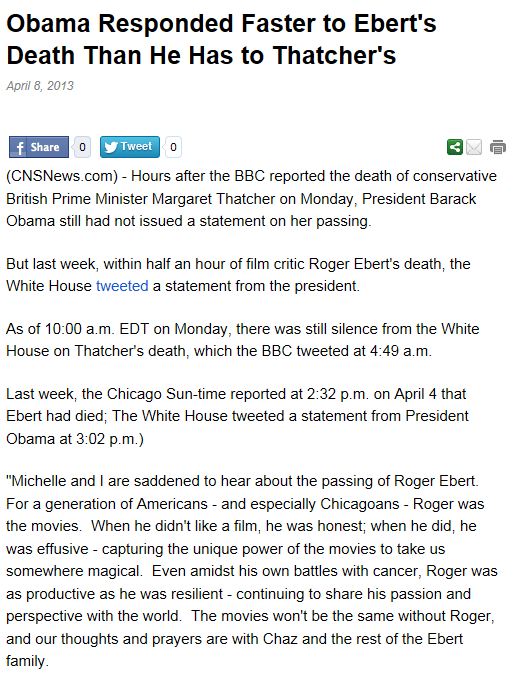 But that's false. The first BBC
tweet
on Thatcher's death was actually sent at 7:49 ET, three hours after CNS first claimed it did: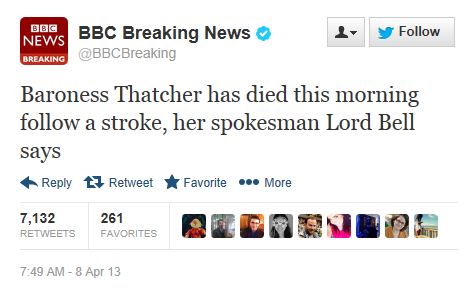 CNS later changed the time of the BBC tweet to "around 6:50" then, finally, to eliminationg the reference to the BBC tweet entirely and stating that news of Thatcher's death "broke here around 7:50." CNS did not tell its readers that this had been corrected not once but twice, nor did it explain why it changed the time from an exact number to one that was "around."
Not only is this petty gotcha journalism, it's dishonest journalism. But then, CNS is a political organization, not a journalistic one.
Posted by Terry K. at 12:05 PM EDT