Meet Michael Maloof, WND's Newest Reporter, And His Sketchy Past
Topic: WorldNetDaily
A May 22 WorldNetDaily article announced that F. Michael Maloof will be "a senior reporter in WND's Washington bureau." WND calls Maloof "a former senior security-policy analyst in the Office of the Secretary of Defense with almost 30 years of federal service in the U.S. Defense Department and as a specialized trainer for border guards and Special Forces in select countries of the Caucasus and Central Asia," while WND editor Joseph Farah calls him "a veteran journalist and national security expert."
Those "veteran journalist" credentials, however, seem a little sketchy -- as do other things.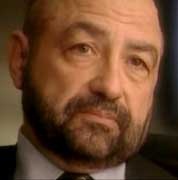 WND claims he was "a special correspondent for the Detroit News," but searches of Google and Nexis turn up no Detroit News articles under his name. WND also notes that Maloof was "Washington correspondent for the Union Leader in Manchester, N.H.," but that appears to have been three decades ago; a Decemter 1981 UPI article (found via Nexis) states that at the time he was working as a part-time correspondent for the Union Leader, Maloof was also on the payroll of the Commerce Department writing "issue papers" in the office of assistant commerce secretary Lawrence J. Brady. Maloof ultimately quit the government job to avoid a conflict of interest. An October 1983 UPI article (via Nexis) noted that Maloof "praised Brady in his articles," and at the time of the article had apparently left the newspaper and was working for Richard Perle, then an assistant defense secretary in the Reagan administration.
The Perle connection will come up again. WND vaguely describes Maloof's later work this way:
Following the Sept. 11, 2001, terrorist attack on the World Trade Center and Pentagon, Maloof was detailed back to the Office of the Secretary of Defense to prepare analysis of worldwide terrorist networks, determine their linkages worldwide and their relationship to state sponsors.
Specifically, Maloof was a member of the "B Team" unit commissioned by Secretary of Defense Donald Rumsfeld and set up by Douglas Feith and Paul Wolfowitz, to re-examine intelligence on terrorism. According to History Commons, the unit was hostile to the CIA and pushed the discredited idea that Iraq's Saddam Hussein was linked to the 9/11 attacks. Maloof's former boss, Perle, supported the operation.
Maloof was stripped of his security clearance in December 2001 (and upheld on appeal in 2003, despite letters of support from Perle and Feith) after being accused of associating with Imad El Haje, a Lebanese-American businessman who was under federal investigation for possible involvement in a gun-running scheme to Liberia, then involved in a civil war. Maloof's supporters contended his clearances were pulled in retaliation for challenging the official assessment that there were no operational terrorist links between al-Qaida and Iraq. Newsweek reported in 2004 (found via Nexis) that Maloof "was investigated for years for security leaks."
Unsurprisingly, Maloof was, and remains, a neocon darling. Washington Times reporter Rowan Scarborough's book "Sabotage" painted Maloof as a victim of political revenge, although he notes that Maloof was involved in a romantic relationship with a woman from the Republic of Georgia whom intelligence agencies were trying to recruit as a asset.
Those neocon credentials, it seems, are more important to WND than Maloof's dubious, long-ago journalism experience. Maloof is described as "a frequent ... contributor" to Farah's subscription-only G2 Bulletin "intelligence news" website.
Could it be that Maloof was leaking things to Farah while he was working in the government? Those two might want to explain that.
Maloof appears to have the same Obama-hating credentials Farah wants in his so-called reporters. A June 2010 WND article by Maloof touts the then-upcoming Rolling Stone article featuring candid comments by then-Afghanistan commander Gen. Stanley McChrystal. And in June 2009, Maloof made a big deal out of the Obama administration's filing to "protect Saudi Arabia and four of its princes from being held accountable for their alleged role in the Sept. 11, 2001, terrorist attack on the United States" from a lawsuit seeking damages from Saudi Arabia over the 9/11 attacks, failing to explain that the stance was a continuation of Bush administration policy on the issue and that no judge had ruled in favor of the plaintiffs.
So, to sum up: WND has hired as a reporter someone who lost their federal security clearance, who has been accused of leaking information and working outside official channels to peddle dubious intelligence, and whose only relevant recent "journalism" experience is working for another WND division.
And Farah wonders why WND isn't taken seriously.
Posted by Terry K. at 12:18 AM EDT