MRC's Hadro Ignores Denials Of Claim By GOP Rep's Gay Son
Topic: NewsBusters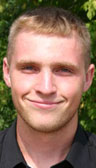 Media Research Center "news analyst" Matt Hadro used an April 8 NewsBusters post to uncritically promote a claim by Matt R. Salmon, son of Republican Rep. Matt Salmon, that "both CNN and MSNBC canceled interviews with him after he refused to criticize his father, who opposes same-sex marriage, on the air." Hadro -- the MRC's go-to guy for fretting about the existence of gay people on CNN -- added: "As NewsBusters has reported, CNN is already devoted to the cause of gay activist group GLAAD, as its corporate partner. GLAAD has bestowed honors on CNN for its reporting on gay rights issues."
Meanwhile, in an article posted at almost exactly the same time as Hadro's, Mediaite also reported on Salmon's claims but added something Hadro didn't -- comments from the networks involved:
A spokesperson for MSNBC told TPM that "A producer had initial conversations with Matt, like we do with many potential guests every day, but he was never formally booked for the show." A source close to Morgan's CNN show told BuzzFeed: "This isn't accurate. The show simply booked up with other guests on a different topic. Happens all the time in cable news."
Hadro also cited Buzzfeed as the source for his Salmon claim, but he faiied to note CNN's denial as contained in the article. And the TPM article Mediaite cites for MSNBC's denial was posted an hour before Hadro's.
Hadro had access to MSNBC's and CNN's denials of Salmon's claims, yet he refused to note them, choosing instead to rehash his employer's anti-gay agenda. That may be the kind of "news analysis" the MRC is paying him to do, but it's unfair and dishonest.
Posted by Terry K. at 9:57 PM EDT
Updated: Wednesday, April 10, 2013 9:58 PM EDT