MRC Blowing More Money On Times Square Billboards
Topic: Media Research Center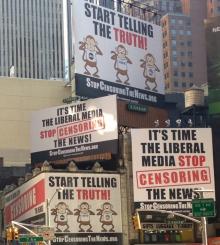 Remember last year how the Media Research Center dropped $180,000 on a Times Square billboard as part of spending $5 million to demand that the "liberal media" tell "the truth" -- much of that money seemingly going more for show and less toward actual media watchdogging, undermined as it was by the MRC's efforts to intimidate reporters into not telling the truth about Republicans?
Well, the MRC has determined it needs to blow even more money on Times Square billboards.
A Feb. 20 CNSNews.com article by Michael Chapman details how the MRC has rented a cluster of five billboards in Times Square to push its new message demanding that the "liberal media" "stop censoring the news." It's acccompanied, of course, by a rant from you-know-who:
Brent Bozell, president of the MRC, said in a statement, "During the 2012 election, the liberal media moved beyond bias. They actively and repeatedly censored any story that could have jeopardized Barack Obama's re-election. Now in 2013, they're censoring any story that could slow his administration's second term agenda. Their behavior is as disgraceful as it is unprecedented."

"These billboards – located in the hub of the liberal media's nerve center – put them on notice," said Bozell. "The American people are sick and tired of the establishment media's collusion with the Obama administration, and won't stand for a corrupt press willing to censor the news."
Bozell's definition of censorship is not that of most people -- when he says "censorship," he really means "uncritically promote the right-wing agenda."
But the vast majority of Times Square pedestrians are not familiar with the way things work in the right-wing media bubble, so they won't understand the billboards' definition of "censorship," since no actual censorship as most Americans understand it is not happening, and thus will dismiss the billboards as crazy rantings.
Of course, by Bozell's own definition, Fox News is an even bigger censor than the "liberal media" is, but Bozell would never admit that in public.
These new billboards have double the square footage of the single billboard it rented last year, which means that the MRC has spent at least $360,000 on this campaign. Additionally, the MRC is paying an undisclosed amount of money to right-wing radio host Mark Levin to promote this campaign.
As we noted last year, a static billboard -- even five of them, arranged in a way that's not terribly compelling -- is a miniscule presence among the flashing neon and giant video screens of Times Square. Plus, February isn't exactly a peak month for tourism, so it's questionable whether it will be viewed by the "1.4 million onlookers" that the MRC claims. And these billboards will be forgotten as soon as they are taken down.
Is this really an effective way to spend a nonprofit group's money, or is the MRC just doing it for show in order to create the illusion for its funders that it has some real-world impact so they'll donate more money? The MRC's annual budget is $10 million, which means it has blown approximately 5 percent of it on this campaign already with 10 more months to go in the year.
Posted by Terry K. at 10:59 AM EST