WND's Farah Repeats COVID Vaccine Misinformation
Topic: WorldNetDaily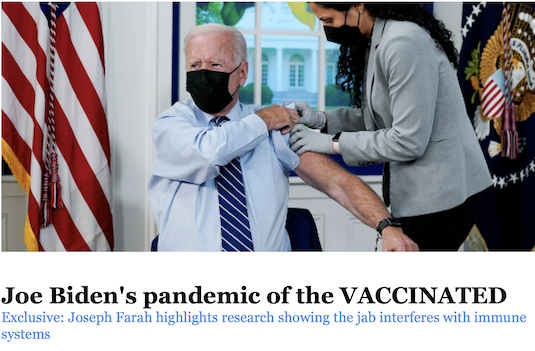 It appears that Joseph Farah is falling for his own website's propaganda against COVID vaccines. He ranted in his July 22 column:
Joe Biden promised Americans that if they got vaccinated they could not and would not get COVID-19.

Another promise broken.

In fact, to prove it was a lie, after Biden received four shots, he contracted the virus, experiencing symptoms and being isolated from his staff.

To prove he's a serial liar, Biden answered a question about his latest plans to address a rise in the disease. "Getting vaccinated," he insisted.

He's not the only one sticking to the script.

Biden's top coronavirus adviser, Dr. Anthony Fauci – who tested positive for COVID-19 last month after being quadruple vaccinated – acknowledged in a recent interview that the COVID vaccines "don't protect overly well" from infection. But he maintained they still have value.
He appears to be unable to comprehend the fact that the Omicron variant is more contagious than previous variants and it evades protection from the current vaccine -- though the vaccines do continue to offer protection against serious illness and death, as evidenced by the fact that neither Biden nor Fauci fell seriously ill. Still he continued:
But an analysis of Pfizer and Moderna COVID vaccine trials found the mRNA shots are more likely to land a recipient in the hospital than to provide protection from a severe adverse event. The findings were similar to those of a recent pre-print analysis that found "no evidence of a reduction in overall mortality in the mRNA vaccine trials." And a new study published in the New England Journal of Medicine found that two doses of the mRNA vaccines increased the risk of COVID-19 infection during the omicron wave.

That's what the DATA shows.
Wrong. As we documented, WND and other anti-vaxxers misinterpreted that study, which actually said the (slightly) higher risk of hospitalization was only for those who had received only the initial two-shot vaccination, but it was lower for those who had gotten fully vaccinated with boosters and lowest for those who had been previously infected and were fully vaccinated.
Farah went on to cite COVID misinformers like Robert Malone, Peter McCullough and Harvey Risch, going on torant:
Remember what Biden said when mandating the shots? He warned last December of "a winter of severe illness and death for the unvaccinated." And he scolded the COVID vaccine skeptics by repeatedly declaring the nation is experiencing a "pandemic of the unvaccinated."

Dr. Peter McCullough, a prominent cardiologist, epidemiologist and critic of the COVID vaccines, wondered Thursday how Biden will walk back that statement.
No walkback is necessary: unvaccinated people made up a notable majority of COVID deaths during last winter's surge. Farah concluded:
However the consensus among physicians and scientists has been that, regardless of vaccination status, the current BA.4 and BA.5 omicron subvariants, while very contagious, present with mild symptoms in most people.

I'm glad I never yielded to "experts" by taking the "vaccine," if you could call it that.
In fact, hundreds of Americans are continuing to die every day from COVID, and omicron is the strain they're dying from -- and the unvaccinated are still the primary victims. It's sad to see someone who is still recovering from a series of strokes treat his own life so cavilerly in an attempt to prove a political point.
Posted by Terry K. at 7:09 PM EDT