WND Tries To Keep Bogus '2000 Mules' Film Alive
Topic: WorldNetDaily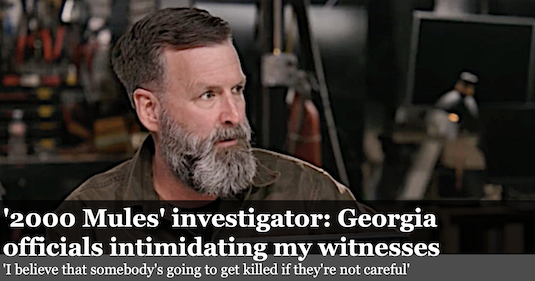 Even as the Dinesh D'Souza election conspiracy film "2000 Mules" continues to be discredited on little things (the geolocation data map is of Moscow, not anywhere in the U.S.) and big (D'Souza himself has been forced to concede that the film "does not show evidence to prove his claims about ballots being collected and submitted") -- so bad that even right-wing grifter extraordinaire Ann Coulter dismissed the "stupid movie" as a grift -- WorldNetDaily remains firmly in its role as PR agent for the film.
A May 13 article by Art Moore uncritically forwarded a claim by Gregg Philips, "lead investigator" for the film, that "he and his witnesses have become the target of Georgia state officials instead of the people he believes delivered fraudulent votes to help Joe Biden win the White House." Moore made no apparent effort to fact-check Phillips. Moore devoted a May 26 article to attempting to debunk a fact-check that the film's depiction of geolocation doesn't match reality by citing a "wireless expert":
The CEO of a wireless company says fact checkers for PolitiFact and the Associated Press who question the accuracy of cellphone geolocation data presented by True the Vote as evidence of an alleged vote-fraud scheme in the battleground states in 2020 don't know what they're talking about.

An AP fact check said "experts say cellphone location data, even at its most advanced, can only reliably track a smartphone within a few meters — not close enough to know whether someone actually dropped off a ballot or just walked or drove nearby."

However, Volta Wireless founder David Sinclair told the Gateway Pundit the fact-checkers "don't have the technical foundation for the comments that they are making."

[...]

Sinclair said he's seen "2000 Mules," read the rebuttals and spoken with Phillips "to better understand the details of the data and the methodology they used."

He explained that location technology has "dramatically improved" and GPS and tower "triangulation" can pinpoint a person's location within a few feet.
In fact, Sinclar's LinkedIn profile suggests his expertise is in sales and management, not the technical end of cell phone communications, so he can't be much of an "expert" here. By contrast, actual experts at the Elecctronic Frontier Foundation point out that cell-phone geolocation data is only accurate to about 15 feet, adding that "Relying on commercial location data alone to allege ballot box stuffing is folly." (Also, the fact that Sinclair did an interview with Gateway Pundit, who's currently being sued for defamation for spreading lies about Georgia election workers, hows he has poor judgment.)
Desperate for anything to cling to to deny the film's lack of accuracy, Moore wrote a June 2 article touting the arrest of an Arizona woman "in an alleged ballot-trafficking scheme in the 2020 election that was featured in the film '2000 Mules.'" Moore didn't report that the sheriff in Yuma County, Ariz., where this took place, denied that any election investigation was launched as a result of the movie.
A June 5 article by Joe Kovacs touted a biased Rasmussen poll claiming that "77% of likely U.S. voters who have viewed the documentary by Dinesh D'Souza say the film strengthened their conviction of systematic and widespread election fraud in the 2020 election, possibly leading to a 'stolen election,' as former President Donald Trump has maintained." Kovacs does not mention whether the poll respondents were presented with the mountain of evidence discrediting the film; instead he whined that "The movie has received little, if any, mention on major broadcast networks including the Fox News Channel, which appears to be going out of its way to avoid any on-air mention."
Moore helped D'Souza have a little temper tantrum in a June 14 article:
After watching Bill Barr laugh about the vote-fraud probe featured in "2000 Mules," the film's producer, Dinesh D'Souza, has challenged the former attorney general to a debate.

Barr's reaction came in a video deposition featured in a hearing Monday by the House Select Committee on Jan. 6.

"My opinion then, and my opinion now, is that the election was not stolen by fraud," Barr said.

"And I haven't seen anything since the election that changes my mind, including the '2000 Mules' movie," he added before laughing.

D'Souza reacted on Twitter: "I'd like to invite Bill Barr to a public debate on election fraud. Given his blithe chuckling dismissal of #2000Mules this should be easy for him. What do you say, Barr? Do you dare to back up your belly laughs with arguments that can withstand rebuttal and cross-examination?"
Moore didn't mention that D'Souza himself conceded that the film doesn't present actual evidence of election fraud.
Trying to keep the flagging, bogus film alive, Moore spent a June 27 article claiming that "Allegations arising from the True the Vote investigation featured in the documentary '2000 Mules' have prompted a call by Michigan Republican lawmakers for a new investigation into the 2020 election." Moore censored all evidence that the film nas been discredited.
Meanwhile, Joseph Farah and Jack Cashill weren't the only WND columnist hyping the film. Jim Darlington complained in a May 26 column hyperbolically headlined "Was censoring of '2000 Mules' the sign of America's death?"
No one, anywhere, did not see the stolen election. One candidate was up by so much, and then counting stopped at 2 a.m. everywhere it mattered, only to bring us a new, absurdly improbable president the next morning. How sad that so many acquiesced to the drumbeat of lies and finally nodded in frightful agreement to what their hearts knew was false.

Well before the election we had allowed that maybe only a little censorship was in store. InfoWars' large following was effectively decimated and any mention of the others quickly following … was censored. We saw this coming long before the election. The lie, that challenges to a stolen election were really an effort to steal the election, filled the streets till there was no room to walk anywhere else. Years of passivity in the face of an ever-growing symphony of lies proved that the Big Lie could easily succeed.

[...]

Greg Phillips and Catherine Engelbrecht, from True the Vote, applied this same technology and similar sourcing, virtually mapping the paths of thousands of "mules" making numerous trips between ballot drop boxes and various left-wing NGO's nearby, repeatedly inserting 10 or 20 ballots at a time, their activities being confirmed, quite plainly, by video evidence.

The authorities gladly boasted of the technique used to round up the "insurrectionists." But they want to bury the undeniable proofs, offered in "2000 Mules," as deeply as inhumanly possible. The roster of those willing to turn a blind eye to this treachery must never be forgotten.

So, what do we do next? We should go inside the church and thank the Lord for our freedom, while we still can.
Like the rest of the WND bogus brigade, he too was sure to censor any mention of how the film has been discredited.
Posted by Terry K. at 6:42 PM EDT
Updated: Thursday, July 14, 2022 8:10 PM EDT