MRC Psaki-Bashing, Doocy-Fluffing Watch, New Year's Edition
Topic: Media Research Center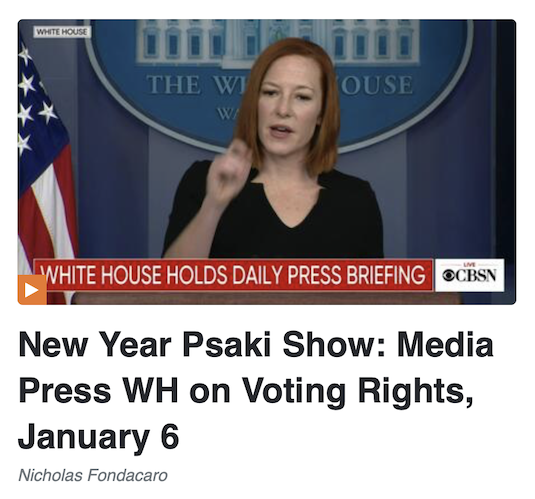 The Media Research Center's Curtis Houck continued his apparent boredom with his own project -- last year's daily reports attacking White House press secretary and fawning over Fox News' Peter Doocy and other right-wing reporters hurling hostile questions at her -- well into January. So much so, in fact, that the first so-called "Psaki Show" report of 2022, on Jan. 4, was written by Nicholas Fondacaro, who noted Psaki "fielding questions from the liberal press that urged President Biden to do more to pass 'voting rights' legislation and bizarre suggestions that they had never condemned former President Trump."
Houck, it seems, was not going to write about Psaki again until his beloved Doocy returned to the briefing room after sitting out a case of COVID, so it was not until Jan. 10 that he served up the Doocy-fluffing and Psaki-hate he's infamous for:
Fox News White House correspondent Peter Doocy returned to the Brady Briefing Room on Monday for the first time in 2022, following a mild case of COVID-19, and promptly threw down with Press Secretary Jen Psaki over "why" was the Biden administration "so unprepared for the need for testing," President Biden's falsehoods about COVID spread, and disinformation from Justice Sonia Sotomayor.

[...]

Psaki initially blamed the shortages on "a massive surge in cases" and "unprecedented demand for tests" in New York and Washington D.C., but then painted a rosy picture of the administration's current testing capacity.

Doocy was unmoved, starting with the fact that the tests currently available "require people to go somewhere and either make an appointment or wait in line" even though "[t]he CDC's guidance is, if you think you have Covid, you're supposed to stay home."

"You guys said you were gonna mail free tests to people that need them. The President's there on television talking about a winter of severe illness and death. While he's saying that publicly, why weren't you guys doing more to prepare for the winter," he added.

Psaki showed her disconnect from reality, insisting "everyone decides where they're going to go get a test, and, uh, we make a range of options available," including the ability to "purchase tests online" and 500 million tests coming (eventually).
For the Jan. 14 briefing, Houck welcomed a new hostile right-wing reporter to the briefing room:
Longtime journalist James Rosen made his White House briefing debut on Thursday as White House correspondent for Newsmax, so it was no surprise he got right to work grilling National Security Adviser Jake Sullivan on foreign policy and Press Secretary Jen Psaki on Biden being responsible for inflation and vaccinations.

And, better yet, he had plenty of help with hardballs from even the Associated Press, Bloomberg, and Time magazine. Not to be left out, Fox's Peter Doocy appeared on Friday's Psaki Show episode and pressured Psaki on what many see as incendiary rhetoric from Biden.
Houck didn't mention that Rosen lost his previous job, at Fox News, due to sexual misconduct allegations.
That's only three articles on Psaki briefings for the first three weeks or so of 2022 (only two of which Houck wrote), despite her holding briefings most weekdays. He's slacking off, but then, he's certainly never going to write about Psaki owning conservatives like him, such as the Jan. 12 briefing when she smacked down right-wing critics of Biden's civil rights speech as purportedly too divisive, calling it "hilarious on many levels, given how many people sat silently over the last four years for the former president."
Posted by Terry K. at 9:21 PM EST