How Has Jack Cashill Been Obsessing Over Obama Lately?
Topic: WorldNetDaily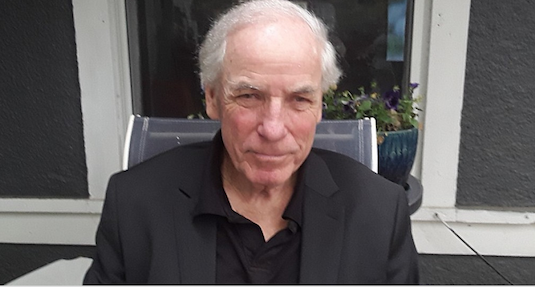 When WorldNetDaily columnist Jack Cashill isn't peddling conspiracy theories, he's obsessing over Barack Obama. Let's see how that has manifested itself lately. In his Oct. 27 column, he was still pushing the conspiracy theory that Obama didn't write his books, now including his White House memoir:
"There's a mood out there," said former President Barack Obama while stumping for Terry McAuliffe last weekend in the Virginia governor's race. "There's a politics of meanness and division and conflict, of tribalism and cynicism."

I have always doubted whether Obama wrote the books attributed to him. But upon hearing the above, I began to doubt whether he even read them, especially his most recent book, "A Promised Land."

The 2019 memoir is a tribute to the joys of tribalism. The same president who inspired the nation at the 2004 Democratic National Convention promising "there is not a Black America and a White America and Latino America and Asian America – there's the United States of America," has more and more taken refuge in his self-constructed "blackness."
Cashill further whined, as he likes to do, that Obama besmirched George Zimmerman, killer of Trayvon Martin and, thus, Cashill's buddy:
As president, when it suited his purposes, Obama put tribal identification above his identity as an American. One young Florida man learned this the hard way.

The "White Hispanic" George Zimmerman lobbied for Obama, voted for Obama and believed in Obama until that rainy February night in 2012 when attacked by an out-of-control adolescent who looked more like Obama's imagined son than he did.

In summer 2013, when Zimmerman was rightly acquitted in the murder of Trayvon Martin, Obama felt compelled to legitimize the post-verdict outrage. Expanding on his "If I had a son" remarks from more than a year prior, Obama once again identified himself with Martin, now even more intimately. "Trayvon Martin could have been me 35 years ago," said Obama.

With Obama refusing to tell the truth about Martin's death, a trio of activists formed Black Lives Matter. When Obama chose to identify with out-of-control Ferguson adolescent Michael Brown a year later – "My mind went back to what it was like for me when I was 17, 18, 20" – he empowered BLM.
In his Jan. 5 column, Cashill insisted that Obama conspired against Donald Trump's presidency:
Merriam-Webster defines "insurrection" as "an act or instance of revolting against civil authority or an established government." This being so, the one real insurrection within anyone's memory was hatched on Jan. 5, 2017.

The conspirators met in the White House on that day to plot a quiet coup against President-elect Donald Trump. Presiding was President Barack Obama. Joining him was his national security team including all the usual suspects: the FBI's Jim Comey, the CIA's John Brennan, Vice President Joe Biden, National Security Adviser Susan Rice, Director of National Intelligence James Clapper and Acting Attorney General Sally Yates.

Following the meeting, Obama asked Yates and Comey to stick around along with Rice, his trusted scribe and factotum. Obama had a reason for singling out Comey and Yates. Unlike the others, they were staying on in their jobs.

[...]

There is no "book" that justifies what Comey and pals did in the weeks immediately following this meeting while Obama was still president. The next day, Jan. 6, 2017, the conspirators released the declassified version of the Intelligence Community Assessment (ICA).

Commissioned a month earlier by Obama, the ICA was John Brennan's way of welcoming the president-elect to Washington. Titled "Assessing Russian Activities and Intentions in Recent US Elections," the report concluded that Putin "ordered" an influence campaign, the goal of which was "to undermine public faith in the US democratic process, denigrate Secretary Clinton, and harm her electability and potential presidency."
Actually, that intelligence assessment's conclusions have been confirmed by a 2020 Senate Intelligence committee report. Cashill won't mention that, of course, because he has a conspiracy theory to construct. Instead, he counteractually whined: "Even at a glance, the casual reader could see what a pile of dog-doo the whole thing was, and yet here were the mavens of major media fighting to be first to cover themselves with its stink." he added: "Five years later, their conspiracy busted, these same people have the nerve to decry the "insurrection" of Jan. 6, 2021? Please. At least, our 'insurrectionists' did their thing in public."
Cashill spent a Feb. 9 column melting down over the Obamas building a beach house in Hawaii:
According to legend, 11th-century monarch King Canute ordered his chair to be placed on the beach while the tide was rising. "You are subject to me," Canute told the sea. "I command you, therefore, not to rise on to my land, nor to presume to wet the clothing or limbs of your master."

Of late, ex-President Barack Obama seems to be testing his Canute-like powers. This past week he was spotted maskless conferring with masked construction workers on the site of his new beachfront mansion. Located on the southeast edge of the island of Oahu in Hawaii, the property alone sold for $8.7 million.

This new mansion will help Obama fill out a real estate portfolio that already includes a 7,000-square foot, $12 million waterfront home on Martha's Vineyard, a short bicycle ride from Chappaquiddick.

Better still, these twin purchases give him all the excuse he needs to stay as far away from the American heartland as possible and still be able to get all the ESPN channels.

[...]

As Canute was expecting, the seas defied his command. He used his public drenching as a teachable moment. "Let all the world know," he told his courtiers, "that the power of kings is empty and worthless, and there is no king worthy of the name save Him by whose will heaven, earth and the sea obey eternal laws."

By contrast, Obama is not a believer, true or otherwise. He just put down a $20 million bet that the climate change orthodoxy he himself has been preaching is as bankable as his promise that if you like your health care plan you can keep it.
Does Cashill know that treatments are available for psychological fixations on other people?
Posted by Terry K. at 7:15 PM EST
Updated: Tuesday, February 15, 2022 7:19 PM EST