CNS Takes Shots At Efforts To Fight Islamphobia
Topic: CNSNews.com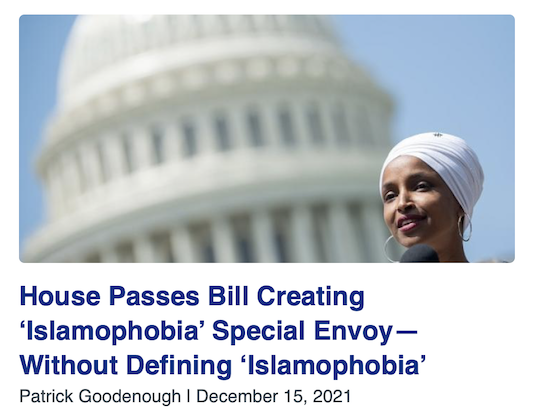 Patrick Goodenough wrote in an Oct. 22 CNSNews.com article:
Three months Secretary of State Antony Blinken in a letter to create the post of special envoy to monitor and combat "Islamophobia," Reps. Ilhan Omar (D-Minn.) and Jan Schakowsky (D-Ill.) on Thursday introduced legislation to achieve that aim.

The Combating International Islamophobia Act would create an "Office to Monitor and Combat Islamophobia" at the State Department, headed by a special envoy.
Note the scare quotes around "Islamophobia" in the first paragraph, which indicates that Goodenough does not approve.He went on to quibble about the word's definition:
The Merriam-Webster dictionary defines Islamophobia as "irrational fear of, aversion to, or discrimination against Islam or people who practice Islam."

Other suggested definitions are more expansive.

"Islamophobia is rooted in racism and is a type of racism that targets expressions of Muslimness or perceived Muslimness," says the All Party Parliamentary Group on British Muslims.

A working definition proposed by two legal experts to the UN. Human Rights Council (HRC) last year said, in part, that Islamophobia was "motivated by institutional, ideological, political and religious hostility that transcends into structural and cultural racism which targets the symbols and markers of a being a Muslim."
This was weirdly and redundantlyfollowed by a anonymously written Nov. 1 article rehashing the bill.
Note that CNS is not especially hostile toward Muslims, but it is quite hostile toward Omar, most recently seemingly endorsing far-right Republican Rep. Lauren Boebert's portrayal of her as a terrorist. Goodenough, in turn, is not a screaming Muslim-hater; instead, his tactic was to pedantically focus on defining Islamophobia -- which became a Republican talking point against the bill. Thus, Goodenough was happy to to be a Republican messenger against the bill in a Dec. 10 article:
A bill to create a special envoy to monitor and combat "Islamophobia" ran into Republican opposition in the House Foreign Affairs Committee on Thursday, as critics pushed for amendments to define the phenomenon – and some were themselves accused by Democrats of Islamophobia.
Authored by Reps. Ilhan Omar (D-Minn.) and Jan Schakowsky (D-Ill.), the Combating International Islamophobia Act would create an "Office to Monitor and Combat Islamophobia" at the State Department, headed by a special envoy.

[...]

But GOP committee members argued that Islamophobia needs to be clearly defined to avoid misuse of the proposed envoy post.

Offering an example of the type of problems that could arise in the absence of a clear definition, Rep. Brian Mast (R-Fla.) recalled an incident last summer when Omar came under fire for comments appearing to equate Israel and the United States with terrorist groups.

A dozen Jewish Democrats led by Rep. Brad Schneider (Ill.) in a statement then deplored Omar's remark. In turn, Omar accused her Democratic colleagues of "harassment" and of engaging in "Islamophobic tropes."
Goodenough linked to a July article he wrote in which he accused Omar of "stok[ing] Democrat [sic] divisions" through her statement critical of Israel. He did not explain why Israel should be exempt from criticism for its actions.
Goodenough went on to promote a proposed amendment by Republcian Rep. Steve Chabot "that would exclude what he called "legitimate, non-violent, evidence-based criticism" from statements or actions or material that would be regarded as Islamophobic":
He gave as examples: denouncing "Islamic fundamentalist terrorism," condemning the mistreatment of women by the Taliban, calling out the persecution of Christians in Nigeria, combating "the brutal blasphemy laws in Pakistan," and calling out those "calling for the destruction of Israel as a Jewish state.'

"Of course not all Muslims support these types of positions and I don't mean to suggest that they do," Chabot said. "But I think that we can all agree that criticism of these things is not Islamophobic."

"So I would urge the adoption of this amendment. I think we need to define exactly what Islamophobia is."
Goodenough later appended an update to his article noting that the bill had advanced out of committee and Chabot's amendment was defeated. When the bill was passed by the House, Goodenoucgh returned on Dec. 15 to once again play sematic games:
The House of Representatives late on Tuesday night passed a bill to create a special envoy on "Islamophobia," after a sometimes heated debate in which Republicans criticized the legislation for failing to define the concept.

"This word appears nowhere in the federal statutes," said Rep. Michael McCaul (R-Texas). "It is so vague and subjective that it could be used against legitimate speech, for partisan purposes."

Republicans argued that without defining Islamophobia, the bill risked threatening free speech, and that someone could be accused of "Islamophobia" when, for example, calling out blasphemy law abuses or the mistreatment of women whose proponents cite Islamic teachings to justify their policies or behavior.

During the earlier House Foreign Relations Committee markup, Democrats voted down GOP amendments including one proposing that "legitimate criticism" should be excluded from speech that could be deemed Islamophobic.
When a Democratic senator recalled former President Trump's attempts at a "Muslim ban," Goodenough did what he usually does and rushed to Trump defense mode:
While arguing in favor of the bill, some Democrats raised former President Trump's controversial travel proclamations – even though what detractors labeled a "Muslim ban" was built on security concerns determined under the Obama administration.

[...]

Trump's E.O. 13769 of January 2017 restricted entry (with exceptions) to visitors from Iran, Iraq, Libya, Somalia, Sudan, Syria, and Yemen.

Those same seven countries had been identified the previous year by the Obama Department of Homeland Security as countries of concern regarding terrorism threats, with implications for visa-free travel – Iran, Iraq, Sudan, and Syria in January 2016, and Libya, Somalia, and Yemen a month later.

E.O. 13769 was later superseded by E.O. 13780 (which dropped Iraq from the original list) and by presidential proclamation 9645 (which removed Sudan, and added Chad, as well as some classes of visitor from Venezuela and North Korea.)

The Supreme Court ruling referred to by Reschenthaler, Trump v. Hawaii, related to presidential proclamation 9645.

The five Muslim-majority countries affected by presidential proclamation 9645 – Iran, Libya, Somalia, Syria, and Yemen together have a population of around 132 million, or about eight percent of the world's estimated 1.6 billion Muslims.
Goodenough got another article out of the bill the next day:
During Tuesday night's sometimes combative House debate over a bill to create a special envoy on "Islamophobia," Rep. Scott Perry (R-Pa.) was called out after accusing the bill's author of being anti-Semitic and of being "affiliated with" terrorist groups.

Perry did not name Rep. Ilhan Omar (D-Minn.) in his remarks – which were removed from the record – but his references to the "maker of this bill" made clear at whom they were directed.
Goodenough didn't seem as interested in seeking aprecise definition of anti-Semitism as it relates to right-wing criticism of Omar.
Posted by Terry K. at 7:51 PM EST