CNS' Flip-Flop On Being Interested In The Past
Topic: CNSNews.com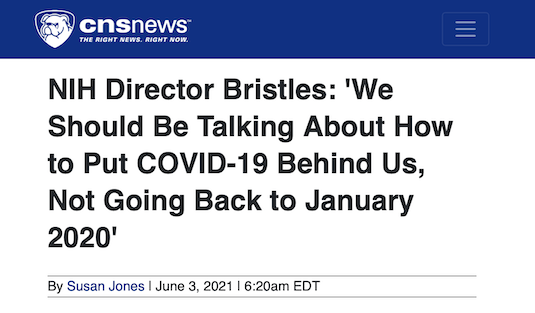 In May, CNSNews.com was all in favor of not looking back when it came to Rep. Liz Cheney's criticism of former President Trump, his bogus complaints about a stolen election and his role in helping to incite the Jan. 6 Capitol riot, which got her kicked out of House Republican leadership. It approvingly quoted Cheney's replacement in the GOP leadership post, Rep. Elise Stefanik, saying that "Cheney "is looking backwards. Republicans are looking forward."
But when it came to an official in the Biden administration who wants to look forward and not look bad, CNS is all in. A June 3 article by Susan Jones carried the headline NIH Director Bristles: 'We Should Be Talking About How to Put COVID-19 Behind Us, Not Going Back to January 2020'":
Dr. Francis Collins, director of the National Institutes of Health, told Fox News on Wednesday that he never rejected the idea that the coronavirus leaked from a lab in Wuhan China, "although there was no evidence to support it."

But in his interview with Martha MacCallum, Collins did reject the suggestion that he and Dr. Anthony Fauci steered reporters away from the lab-leak theory early on.

And he "categorically" denied that NIH gave grant money to the Wuhan Institute of Virology to do "anything that would have created a virus that would have been increased in its transmissibility or its virulence for humans."

Pressed for answers in the interview, Collins said he was "a little disturbed" to be "spending all this time on this issue."

"And here we are today. We should be talking about how to put COVID-19 behind us, not going back to January 2020," Collins said. "We'll get the answers. Right now, we don't have any new data," he added.
CNS did not describe any Republican official has having "bristled" regarding Cheney's focus on Trump.
Posted by Terry K. at 7:42 PM EDT