CNS Gets On Board With Anti-Cheney Narrative -- But Wasn't Quite Sold On Her Replacement
Topic: CNSNews.com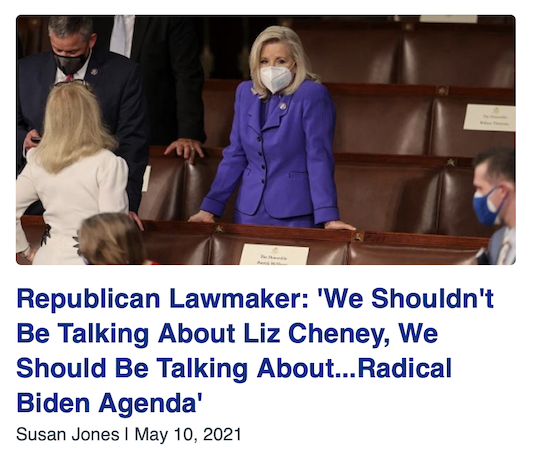 Despite its Media Research Center parent's insistence that it wasn't news, CNSNews.com did, in fact, cover the story of Liz Cheney getting kicked out of House Repuiblican leadership for criticizing Donald Trump.
On May 7, Craig Bannister touted how "The union representing the nation's border agents is endorsing Rep. Elise Stefanik (R-NY) to replace Rep. Liz Cheney (R-WY) as chairwoman of the House Republican conference." Bannister didn't epxlain why CNS suddenly thinks it's OK for a labor union to speak out on partisan political issues, given its heavy anti-union record.
In a May 10 article, Susan Jones pushed criticism of Cheney from another GOP congressman and tried to make the case against her:
Cheney, the highest ranking woman in Republican leadership, does oppose the Biden agenda. But she disagrees with Banks and other Republicans on the future of the post-Trump Republican Party.

She infuriated her fellow Republicans when she voted to impeach Donald Trump for incitement of insurrection following the January 6 attack on the U.S. Capitol. Since then, she has called Trump's claim that the election was stolen a "big lie."

Cheney has made it clear she does not and will not have anything to do with Donald Trump, and unlike Banks and other Republican leaders, she rejects Trump's influence on her party.
Jones did note that the congressman, Jim Banks, had to backpedal a bit from Trump's "Big Lie" about the election being stolen from him: "As for Cheney's 'big lie' criticism of Trump, Banks on Sunday said, 'I've never said that the election was stolen. I've said I have very serious concerns with -- with how the election was conducted in last November because of COVID rules that loosened voter identification laws.'"
In a May 12 article, however, Jones was fully on board with the approved right-wing narrative and mad that the Cheney story drew attention from "activist media" (as if CNS is not "activist media"):
House Republicans say good riddance to Cheney, who voted in February to impeach Donald Trump, whom she accused of trying to steal the election and inciting insurrection. Many House Democrats used Cheney's own words to support their case for impeaching Trump a second time.

Meanwhile, the leftist, activist media is portraying Cheney as a hero, even a martyr to the anti-Trump crusade that still fills the airwaves and cable channels. For weeks, Democrats and the leftist media have showered Cheney with praise, using her to further split and weaken the Republican Party.

Cheney, defiant, delivered a not-so-subtle message to House Republicans leaders last month, when she was seen fist-bumping President Joe Biden on his way into the chamber to deliver a speech to a sparsely attended joint session of Congress.
In another article that day, Jones served up even more right-wing talking points:
As Congressional Democrats seek to consolidate their power by attempting to federalize elections, make D.C. a state, pack the Supreme Court and end the filibuster -- moves that would squelch Republicans for years to come -- it was surprising to hear a defense of the two-party system coming from liberal pundits on MSNBC this Wednesday morning.

The conversation revolved around the anticipated ouster of House Republican Conference Chair Liz Cheney, whom Democrats and media activists are hailing as a hero, a woman of true integrity, for her outspoken anti-Trump stance.
Jones also boosted the anti-Cheney narrative in a third article, quoting Republican Rep. Jim Jordan saying that "You can't have the Republican Conference chair reciting Democrat talking points, especially when gas prices are up 50 percent, there's a crisis on the border, and Democrats are trying to federalize election law and pack the United States Supreme Court."
Bannister, meanwhile, returned to uncritically repeat Trump's insults of Cheney as "a bitter, horrible human being." And an anonymously written article complained that House Speaker Nancy Pelosi issued a statement calling Cheney "a leader of great courage, patriotism and integrity. ... those values are unwelcome in the Republican party."
While CNS ultimately fully embraced the dump-Cheney narrative, it wasn't thrilled at first about her replacement, Elise Stefanik. An anonymously written May 10 article noted that Stefanik "boasted on 'CBS This Morning' in 2018 that she was among the 10 percent of House members who were most bipartisan in their voting." And managing editor Michael W. Chapman grumbled in a May 14 article:
Although Republicans in the House of Representatives voted to oust Rep. Liz Cheney (R-Wy.) from the GOP's No. 3 leadership post and replace her with Rep. Elise Stefanik (R-N.Y.), the ratings of Congress members by the American Conservative Union (ACU) show that Stefanik held a 44% rating.

In addition, the ACU ratings show several GOP women in the House hold far higher conservative ratings than both Stefanik and Cheney.

The ACU ratings, which are made by the organization's Center for Legislative Accountability, were started in 1971 and are considered the "gold standard" in showing how closely a lawmaker adheres to conservative principles.
An anonymous article that day portrayed Stefanik as a flip-flopper: Rep. Elise Stefanik (R.-N.Y.), who was elected on Friday to replace Rep. Liz Cheney (R.-Wyo.) as the chair of the House Republican Conference, voted for the pro-transgender Equality Act when it came up for a vote in 2019. ... When it came up for another vote this February, she voted against it."
But CNS seemed to finally approve of Stefanik by May 17, when an article by Melanie Arter featured her attacking Cheney as "looking backwards" when Republicans must look forward and perpetually attack President Biden and his supposedly "radical agenda."
Posted by Terry K. at 1:18 PM EDT
Updated: Thursday, June 10, 2021 3:42 PM EDT