Dubious WND Doc Clinging To Hydroxycloroquine
Topic: WorldNetDaily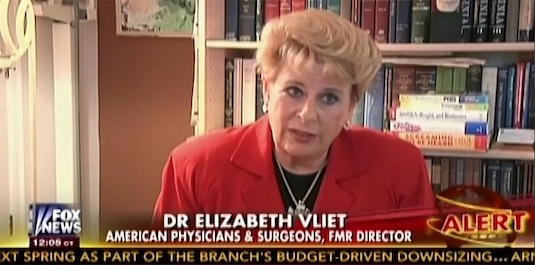 The last time we checked in on WorldNetDaily's coterie of dubious docs linked to the fringe-right Association of American Physicians and Surgeons, they had thoughts about coronavirus, which leaned heavily on pushing hydroxychloroquine to cure it despite the fact it hadn't actually been proven to do so. One of those docs has continued to cling to the unproven drug.
In an April 29 column, Elizabeth Lee Vliet touted how chloroquine and hydroxychloroquine have been "FDA-approved for safety and effectiveness in 1934 and 1955, respectively," though not for coronavirus. She went conspiratorial (and randomly italic) pretty quickly:
So, CDC has said CQ and HCQ are safe and well tolerated for years to prevent and treat malaria. FDA later approved HCQ for treating lupus and RA, with millions taking much higher doses over decades, not days.

[...]

Critics claim we have "no evidence" for use in coronavirus. They willfully ignore that we DO have data from 2002-2005 showing HCQ has potent antiviral action early in the illness of SARS-CoV. Why don't FDA, CDC, WHO, Dr. Fauci, the American Medical Association and most media tell you about this?

Dr. Fauci, FDA and CDC have up to the minute, country by country data on number of cases, number of deaths and number of deaths per million population. Their failure to allow, and even encourage, physicians to offer HCQ as an option to COVID-19 patients early in the disease is causing more deaths in America compared to countries using HCQ at the earliest onset of infection.
On May 7, Vliet attacked a competing drug that shows promise against coronvirus, remdesivir, for having been quickly given emergency use authorization by the FDA, declaring that "such rapid authorization is quite unusual with the FDA." Again, Vliet went conspiratorial, attacking remdesivir's maker, Gilead Sciences:
Is someone stacking the deck in Gilead's favor? Nine of the experts on the NIH COVID-19 Panel recommending treatment options have disclosed financial support from Gilead. Why did these nine experts not recuse themselves? Did financial conflicts of interest affect the recommendation against HCQ, the older, safer, cheaper medicine, and for use of remdesivir, the new, expensive experimental medicine, based on weak, not-yet-peer-reviewed evidence?

[...]

Patients' lives are being sacrificed on the altar of financial interests and elite D.C. powerbrokers, instead of being entrusted to the judgment of patients' own physicians. We are witnessing the deadly consequences of bureaucrats and governors practicing medicine.
Vliet spent her May 20 column having a fit that an "FDA bureaucrat," Rick Bright, had tried to delay broad use of hydroxychloroquine against coronavirus due to lack of scientific evidence that it worked.And it was quickly rant time:
Rick Bright's dictatorial decree limits the use of chloroquine (CQ) and hydroxychloroquine (HCQ) from the National Strategic Stockpile in COVID-19 to hospitalized patients only. States are using Bright's fiat to impose broad restrictions limiting the drugs' availability for physicians to use for outpatients to help them recover without hospitalization.

[...]

How does one non-physician bureaucrat have such power with impunity? How can one person brag about blocking physicians' attempt to reduce hospitalization and deaths during a national emergency?

It is a falsehood to say that the administration promoted HCQ as a "panacea" or that this medicine "clearly lacks scientific merit." Both statements are contradicted by video recordings of presidential briefings, by NIH/CDC studies going back 15 years, and by U.S. and worldwide clinical outcomes studies in COVID-19.

[...]

Bright's disastrous bureaucratic decision may well be remembered as one of the worst preventable medical tragedies in our time. Never again should one government employee be allowed unrestrained power without oversight, and be allowed to make a sweeping order interfering with the prescribing authority of front-line physicians trying to save lives.
Vliet's AAPS compadre, Jane Orient, turned her attention to trying to undermine the efficacy and safety of a possible coronavirus vaccine. She complained in a May 7 column: "What to do now? Let the collapse continue until "we have a vaccine"? Does that mean "until (unless?) everybody is vaccinated with a safe and effective vaccine"? There is NO vaccine for most viruses. The influenza vaccine may be only 30% effective, and many serious side effects are reported to the Vaccine Adverse Event Reporting System (VAERS)."
In a May 18 column, Orient freaked out over President Trump's "Operation Warp Speed" to quickly develop a vaccine and,as befits the AAPS executive director, went conspiratorial:
One reason for hurry is that the epidemic might be gone later, and the vaccinators couldn't take the credit. We have no vaccine for the "Spanish" flu of 1918, the "Asian" flu of 1958, or the "Hong Kong" flu of 1968, all of which killed far more than the current pandemic, and all of which went away. A speedy vaccine, which was developed for the predicted 1976 mass extinction/swine flu pandemic that never was,resulted in deaths and Guillain-Barré syndrome.

Humanity survived many waves of far more deadly pestilence before vaccines existed.
Of course, we have vaccines now, which all much larger swathes of humanity to survive pestilence.
(Vliet also fearmongered about vaccines in her April 29 column: "Dr. Fauci's focus has been that we need to wait for a vaccine to safely re-open the country. Why? He knows vaccines take months to years to develop. Surely, he is also aware of the safety issues of vaccines rushed to market without adequate testing.")
Meanwhile, WND has been giving space to another (though apparently not AAPS-affiliated) doc, Scott Magill, to opine about coronavirus despite his being a retired gynecologist and obstetrician. We previously noted his May 5 column, in which he ranted about infectious disease expert (which Magill is not) Anthony Fauci, asserting that "Fauci, in his role as longtime federal immunology bureaucrat, paid $3.7 million to the Wuhan laboratory for coronavirus development after the U.S. declared a moratorium on such funding." That's a lie; the money -- which was renewed by the Trump administration last year -- was granted to a research group called the EcoHealth Alliance, which was doing research on coronaviruses in bats and working with, among others, the Wuhan Institute of Virology; the institute receoved only $600,000 since 2014 for its role.
Magill also asserted that China owns the patent for remdesivir; that's not true either. He further portrayed coronavirus as a bioweapon that escaped from the Wuhan lab; that's also false.
Magill also asserted that Fauci "and his pharmaceutical partners stand to make huge profits from any expensive COVID-19 vaccine developed later, while they earn nothing from cheap hydroxychloroquine cure available right now." Again, not true.
Lies and conspiracy theories? That's our WND! And the reason, David Kupelian, why WND continues to get tagged as "harmful misinformation" on social media.
Posted by Terry K. at 12:47 AM EDT