CNS Lets Reagan Hagiographer Deny That Reagan Had Alzheimer's Symptoms While President
Topic: CNSNews.com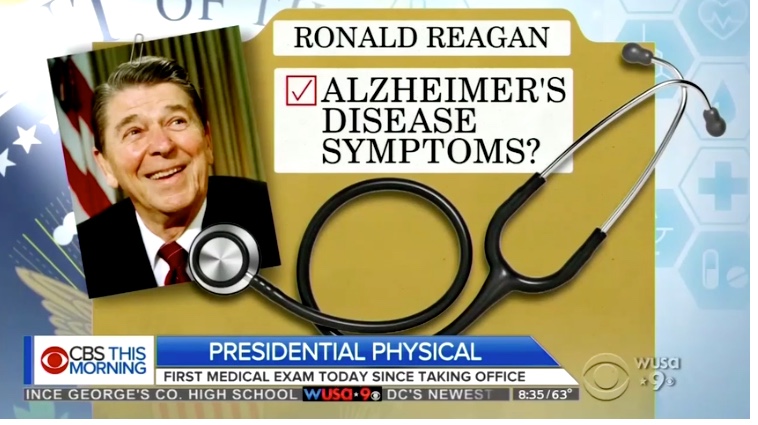 As we've documented, the Media Research Center is weirdly sensitive about the idea that Ronald Reagan may have had early symptoms of Alzheimer's disease. That sensitivity has migrated over to the MRC's "news" division, CNSNews.com, which published a Jan. 25 column by Reagan hagiogrpher Craig Shirley trying to hammer the denial home.
Shirley was particularly put out when President Trump's doctor, Ronny Jackson, made the claim while talking about Trump's health:

It would be nice to dismiss Dr. Jackson's ill-informed and without substance comments and move on, just as the White House would like to put the hearsay concerning Trump's mental health behind it. But he and Trump's tweets have now given new life to an old and most thought extinguished and ridiculous rumor. So once again, Reagan historians have to beat it down. Dr. Jackson's uninformed comments made news and even worse, they were uttered by a White House physician, giving the veneer of officialdom. Jackson's comments were clumsy and the irony is, he could have availed himself of his office's files at Bethesda Naval Hospital on Reagan and seen for himself what Reagan's doctors said about the Gipper. The Trump White House could have easily cleaned up this mess, but so far … crickets. Some believe it serves their purpose to boost Trump by running down Reagan.

[...]

Because if Reagan did – and we must emphasize he did not – have early stages of Alzheimer's in the 1980s, then that would include as big a conspiracy and cover up as JFK. Reagan had four physicians personally check on him, and every report came back stellar.

A man with Alzheimer's does not write for his last journal entry as president as beautiful words: "Then home and the start of a new life." He was 77 years old, but looking forward to the next chapter in his life. He knew where he was, what he accomplished, where he failed, where he could have done more. He had the faculties of an old, but wise, man, who knew that the presidency was an important part of his own and America's life.
Finally, we arrive at the real reason Shirley is writing this:
To carelessly speculate about Reagan as Trump's doctor has now done results in the very same effect as the thinly-veiled attempts to simply delegitimize all his work, his Administration, his life. He did something conservative? Oh, it was the "Alzheimer's." This is the same man who successfully crafted the policies that drove the GDP rise from negative 0.3 in the last year of Jimmy Carter's presidency to 4.1 percent in 1988. Inflation, which was 13.5 percent, dropped dramatically. The Soviet Union was on its knees, only to fall with the Wall (a very real wall) a couple years later. Relations restored with world leaders and the blight of communism was put in sight.

There is an old phrase which says, "A lie can make it around the world while the truth is just getting out of bed."

Let's instead put the lie to bed, now and forever: Ronald Reagan was many things – almost all very good – but he did not have Alzheimer's during his presidency.
It's worth noting here that in December, Shirley declared that only conservatives should be allowed to write about conservative history: "This is what conservatives must jealously guard; the truth, our truth. And root out and eviscerate and disembowel liberals writing of our history."
Got that? Shirley is conflating "the truth" with "our truth." We would venture to guess that where the two conflict, "our truth" would likely win out in Shirley's eyes.
Posted by Terry K. at 9:40 AM EST