MRC Is Weirdly Sensitive About Idea That Reagan Had Alzheimer's Symptoms While President
Topic: Media Research Center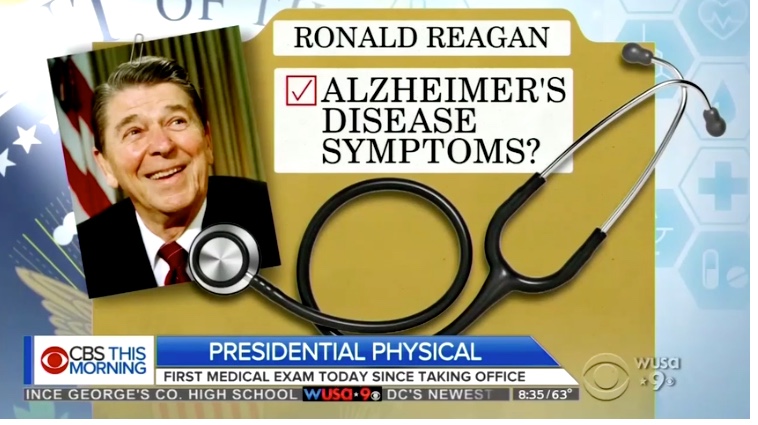 Last fall, the Media Research Center had a weird little freakout over the idea that Ronald Reagan might have been suffering from symptoms of Alzheimer's disease while president, calling anyone who would raise the issue "deranged" -- even though Reagan's son, Ron Reagan Jr., has said he observed possible early signs of the disease in his father.
The MRC continues to be bizarrely sensitive about the issue, however. Curtis Houck put the word "disgusting" in the headline of his Jan. 8 post attacking a couple of people on MSNBC for talking about it:
Continuing the liberal media's insistence that they can diagnose someone as mentally or physically ill, Monday's Deadline: White House on MSNBC featured detestable liberal Republicans Nicolle Wallace and David Jolly asserting that Ronald Reagan had Alzheimer's while president to the point that he may have been unfit for office.

[...]

Wallace used the late Michael Deaver (and YouTube videos) as her main sources for claims Reagan having Alzheimer's while in office, wondering to Jolly if Trump knew about Reagan while tweeting over the weekend: "I don't know if the President doesn't know, has never heard Michael Deavers — the late Michael Deaver post-White House really heartfelt, really honest, really frank articulations of what it was like to see Ronald Reagan age."

"I wondered today, rereading Donald Trump's tweets about Reagan, if he knew that Ronald Reagan was suspected to have had the early signs of Alzheimer's during his second term as President," she concluded.

[...]

Bill O'Reilly made this claim in his much-maligned book Killing Reagan and it drew widespread condemnation. At the time, George Will penned an absolutely scathing takedown on the book, including the portions about Regan having Alzheimer's while in office.

Reagan biographer Craig Shirley trashed the book as "garbage" and "total B.S." for peddling such views. Reagan library executive director John Heubusch said the book was "a disservice to history."

The Heritage Foundation's Lee Edwards addressed Reagan's health in reviewing a Shirley book, writing in 2015 that Reagan "had no serious health problems before his Alzheimer's diagnosis in 1994."

When Reagan's son Ron alleged the same in 2011, his half-brother Michael denied the claim by arguing that Ron "was an embarrassment to his father when he was alive and today he became an embarrassment to his mother."
Houck didn't mention that all of those deniers are Reagan hagiographers who have a vested interest in bending history to obscure the idea that Reagan might have had health problems while in office. And Michael Reagan insulting his half-brother is evidence of absolutely nothing.
Then, in a Jan. 12 post, Kyle Drennen attacked CBS' Dr. John LaPook for accurately stating that "there are questions about whether Ronald Reagan had symptoms of Alzheimer's while in office." Drennen retorted: "The claim about Reagan has been repeatedly dispelled by experts of his presidency. George Will denounced the notion as 'slander' in a 2015 Washington Post column. Reagan biographer Craig Shirley called it 'total B.S.'" Like Houck, Drennen didn't admit that Will and Shirley are Reagan hagiographers.
Posted by Terry K. at 1:30 AM EST