What Is Joseph Farah Lying About Today?
Topic: WorldNetDaily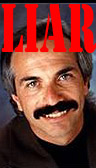 WorldNetDaily editor Joseph Farah is an unrepentant liar -- one of the many, many reasons WND is going down the tubes. Farah demonstrates his disregard for the truth again in his Oct. 28 column, which is devoted to ranting about how "Hillary Clinton hates America and Americans." He adds:
However, thanks to the 2016 presidential campaign and WikiLeaks emails, we now know that even Hillary Clinton's top aides agree that Hillary hates America and Americans – especially "average Americans."

That deliciously and brutally honest email came from John Podesta, her campaign manager, in a moment of candor to another member of her campaign team. It said: "I know she has begun to hate everyday Americans."

That is an incredible indictment and one that needs to be in the ears of every everyday American as he or she makes his or her way to the polls Nov. 8.
Actually, it's a lie. As we pointed out when WND first reported this claim, the words are taken out of context. The reference was to the "everyday Americans" slogan that Clinton used when she first launched her presidential campaign; when Podesta says "I know she has begun to hate everyday Americans," he's saying she hates the phrase in relation to her campaign.
But Farah doesn't let the facts get in the way of his Hillary-hating bile:
It's so important.

Think of it.

Who in their right mind would vote for a president who hates everyday Americans?

What other qualification could possibly overcome such contempt for those she is supposed to serve?

Experience more of Joseph Farah's no-nonsense truth-telling in his books, audio and video products, featured in the WND Superstore

That's clearly not the kind of "first" we can afford in 2016 – electing a president who hates not just Republicans, not just conservatives, not just independents, not just Democrats who don't vote for her, not just Bernie Sanders supporters, but plain, old "everyday Americans," according to no less an authority than her own campaign manager – with tacit confirmation from her other staff, who understood exactly what he meant.
WND has made no impact whatsoever on the 2016 election -- even Jerome Corsi is resorting to lame mud-slinging since his anti-Hillary book is tanking (No. 21,850 at Amazon at this writing). That must be eating at Farah, since WND is resorting to increasingly desperate measures to get attention, rather like a petulant child (wacky tabloid editor claiming to be Hillary's "fixer," anyone?).
If this keeps up, expect to see another sad plea for money from Farah in the very near future.
Posted by Terry K. at 12:50 AM EDT