CNS Managing Editor Gives A Forum to Spokesman for Rabidly Anti-Gay Group
Topic: CNSNews.com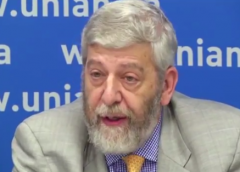 CNSNews.com managing editor Michael W. Chapman loves to give a platform to gay-bashers like Franklin Graham. He does it again in an Oct. 3 post:
World Congress of Families spokesman Don Feder, during a discussion on Kenya's Crosstalk program about the LGBT agenda in Africa and the United States, said that civil society cannot allow homosexuals "to be the role model" because it is "dangerous" and, he added, "if Africans look seriously" at how homosexuality is affecting the United States, "they should be horrified." What's happening with transgender bathroom policy "is absolutely insane," he said.

"The problem is this is a way people are living and they're demanding that it be respected," said Feder in reference to LGBT persons in America on the Sept. 28 edition of Crosstalk, an affiliate of TBN. "They're demanding that all of society be changed for their comfort and their convenience."

"We're not saying that these people have to be persecuted," said Feder, an author and former Boston Herald columnist. "We're not saying that you can't have compassion for them -- of course, you can. But you can't let this be the role model. And you can't allow Christians and other religious people to be persecuted because they refuse to go along with this agenda."

"You know, other people have demanded minority status based on their religion, based on their race," said Feder, a graduate of Boston University Law School. "This is the first group that demands minority status based on what they do in their bedrooms. And that's what makes it so dangerous."

"And if you look at the United States, I mean if Africans look seriously at the United States, they should be horrified by what's going on," he said.
You might rembember the fundamentally dishonest Feder from a few years back when he was promoting a film about "demographic winter"-- fear that white Christians aren't having enough babies and will soon be overrun with brown Muslims.
His current gig is being spokesman for the World Congress for Families, a notorioiusly anti-gay group. For instance, it supported a Russian law banning homosexual "propaganda" -- that is, anything positive about homosexuality.
While Chapman noted that Feder was in Kenya, he didn't say why. That occasion was the African Regional Conference of Families in Nairobi, which was designed to perpetuate discrimination against the LGBT community -- note Feder's statement that "We're not saying that these people have to be persecuted," which does not explicitly rule out persecution of gays.
As Right Wing Watch notes, Kenya is hardly in need of encoragement on the anti-gay front: "Same-sex intimacy is currently illegal in Kenya, though there is an active movement to change that. Nigeria enacted a harsh anti-gay law in 2014 that has sparked vigilante violence; some American Religious Right groups backed that law or have spoken out against the Obama administration's efforts to oppose similar legislation around the world."
Posted by Terry K. at 2:16 PM EDT