Will WND Defend Birtherism From Racism Claims?
Topic: WorldNetDaily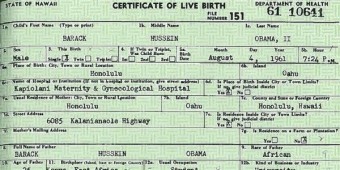 WorldNetDaily used to be very sensitive to the charge that birtherism was racially motivated. In 2009, for instance, WND editor Joseph Farah huffed that it was a "smear" to make the claim, as Farah interprets it, that to say Obama "should be held to the same standard as previous presidents and his opponent with regard to establishing constitutional eligibility to serve" is racist, ranting, "They think their job is to label anyone who doesn't close their eyes, lie down and enjoy the rape of America as a racist." He then declare, "I will never be intimidated into ceasing to stand up for the Constitution and for America."
(Though Farah apparently was intimidated into doing so when it came to applying Ted Cruz to his birther standard.)
Now, the "racist" claim is flying around birtherism -- and now there's some science to back it up. Vox has highlighted a survey conducted by political scientist Philip Klinkner, which found that a stronger belief in birtherism correlated tightly with increasing levels of racial resentment. Vox continued:
It's possible the correlation was coincidental: The study acknowledged that whiteness, Republicanism, and racial resentment all tend to correlate, so maybe this really reflects that partisan beliefs, not racial resentment, drive birtherism. But when Klinkner put all of these factors through a statistical control model, he found that racial resentment significantly correlated by itself with birtherism.

To prove this, Klinkner also looked at Democrats who believed Obama was born outside the US. He found, "Among those with the lowest levels of racial resentment, party had little influence as both Democrats and Republicans had a low probability of believing in birtherism. As racial resentment increased, however, the probability of birtherism increased for both Democrats and Republicans, but more among the latter." So partisan beliefs did play some role, but racial resentment played a significant role as well.

So an all-white Fox News panel may disagree, but birtherism really was driven, at least in part, by race and racial attitudes.
The Vox article came out last week, but WND is been silent about it. Is it because WND concedes the racism aspect? (WND does like to fan the flames of racial resentment, after all.) Or is it just trying to shut up about birtherism in order to help chief birther Donald Trump get elected? (WND didn't really want to talk about it after the subject came up during the first presidential debate.)
But you know what they say: silence equals assent.
Posted by Terry K. at 12:09 AM EDT