MRC Runs to Trump's Defense on Bondi Donation
Topic: Media Research Center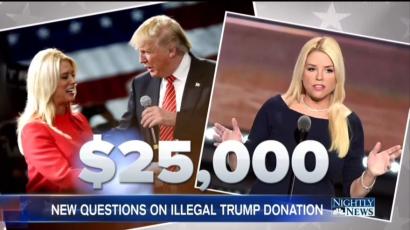 The Media Research Center's Nicholas Fondacaro complains in a Sept. 7 post that NBC "omitted some important details" in reporting on an illegal $25,000 donation by the Trump Foundation to Republican Florida Attorney General Pam Bondi, shortly after which Bondi's office decided not to open an investigation of the scammy Trump University.
Those "details," Fondacaro writes, apparently involve uncritically quoting whatever a Bondi spokesperson has to say about it:
Earlier in the day CNN's Drew Griffin reported on The Lead that, "Since Pam Bondi took office, up until the decision was made, Florida received just one complaint against Trump University." Griffin quoted a statement from a spokesperson from Florida's Attorney General, which stated:

It wasn't enough to justify Florida filing suit. Instead, staff, doing due diligence, reviewed the complaints and the New York litigation and made the proper determination that the New York litigation would provide relief to aggrieved consumers nationwide.

"In other words, Floridians could join New York's lawsuit," Griffin simplified.
Actually, it's Fondacaro leaving out important details. The Orlando Sentinel's Scott Maxwell reports that the Attorney General's Office had received at least 20 complaints about Trump University, and that Bondi previously exhibited no reticence in joining lawsuits filed by other states:
She got involved in the multi-state fight to block Obamacare. She even got involved in a fight with the EPA over water-quality limits … in the Chesapeake Bay. Yes, the one in Virginia, where Bondi sided with organizations like the Fertilizer Institute to oppose a cleanup agreement in a body of water 770 miles away.

It doesn't take much for Bondi to want to join in a legal fracas many states away -– if the politics are right.
Fondacaro concludes by writing, "Although the timing of the donation is suspect, it does a disservice to the public to withhold information just to be able to hit a presidential candidate." He might want to think about that himself a bit more before hurling accusations at others.
Posted by Terry K. at 2:18 PM EDT