MRC's Double Standard on 'Lazy' Politicians
Topic: Media Research Center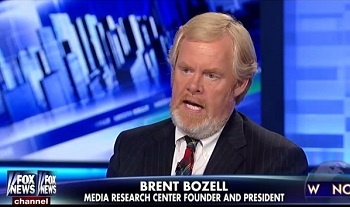 A Dec. 21 NewsBusters post contains a dutiful transcription of the Media Research Center's glorious leader:
"Let's pretend that Marco Rubio were a Democrat." Members of that party would, "in a New York second," slam the Washington Post for the "bigotry and racism and profiling" in their story "because, after all, they just called an Hispanic lazy" in today's front-page hit piece, "Rubio's aloofness on stump unnerves GOP activists," the Media Research Center's (MRC) Brent Bozell argued in his appearance on the Dec. 21 edition of Fox News Channel'sYour World w/ Neil Cavuto.

A headline for an online edition of the story is freighted with even more loaded language: "Will Rubio work hard enough to become president? Some backers are worried."
Bozell doesn't mention that the Post article in question not once uses any form of the word "lazy," meaning that his assertion is false on its face. It's not even true in paraphrase; the Post cited actual Republicans -- not asserted on its own, as Bozell claims -- who are "alarmed at his seeming disdain for the day-to-day grind of retail politics," citing his reluctance to stray outside the Des Moines area while campaigning in Iowa and his reticence to talk to the news media or take questions at town hall meetings. The Post also gave ample space to Rubio and his partisans to respond to the charges.
As if Bozell deliberately misrepresenting the issue wasn't bad enough, his own record leaves much to be desired when it comes to accusing politicians of being lazy.
When Fox News chief accused President Obama of being lazy in an interview that appeared in Zev Chafets' fawning Ailes biography -- and "lazy" was the exact word Ailes used -- Bozell's MRC rushed to his defense:
If Bozell allowed his employees to defend calling Obama lazy, why should anyone believe him when he exhibits a double standard?
Posted by Terry K. at 2:46 PM EST