Newsmax Advertiser Uses Marco Rubio To Sell Dubious Supplement Pills
Topic: Newsmax
Last month, in the wake of questions about Ben Carson's involvement with the shady nutritional supplement maker Mannatech, the Washington Post's David Weigel reported on how conservatives are a key constituency for supplement makers. He notes that Newsmax is a major purveyor of such supplements and "features links to miraculous-sounding products next to original reporting." He then quotes Newsmax editor Christopher Ruddy saying, "When I saw Mannatech being discussed at the debate, I looked up the company and said, 'Reach out to them, they should be advertising this product on Newsmax.' "
That would explain the extremely low caliber of supplement firms that advertise on Newsmax.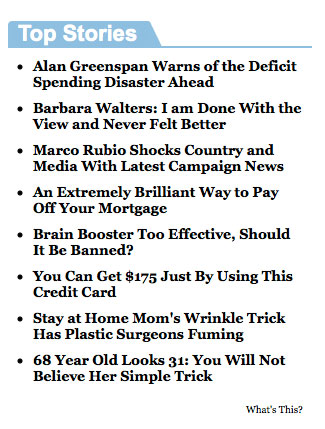 Newsmax's "Top Stories" sidebar is a "feed network" that is also syndicated to numerous other websites with the promise of revenue-sharing. It used to contain headlines from Newsmax articles, but now is almost exclusively advertising for various and dubious products.
The other day, amid the other cheesy come-ons, we caught this headline on it: "Marco Rubio Shocks Country and Media With Latest Campaign News."
Like the sucker Newsmax believes us to be, we clicked on it. Which took us to this incredibly fake-looking "news" page under the fake-looking domain name "com--news.co" (we swear we saw an earlier version of this made to look like an equally fake-looking Fox News page).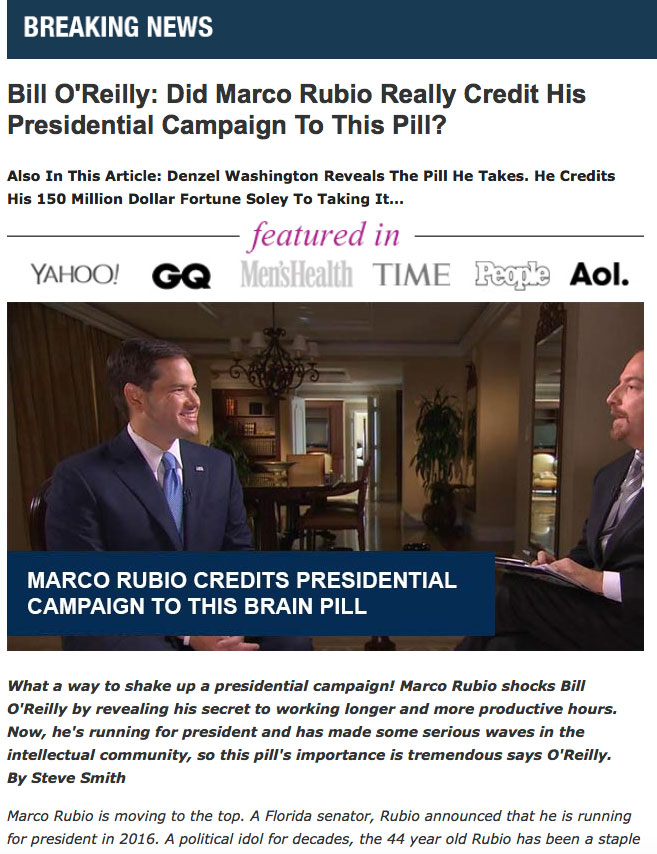 As an apparent artifact to that fake Fox News page, the "news" article claims that "Marco Rubio shocks Bill O'Reilly by revealing his secret to working longer and more productive hours." IT goes on to serve up this terribly written "news" copy:
As a senator, Rubio is a big fan of reading books, the news, and doing puzzles but according to O'Reilly, he also credits his success to an IQ boosting, brain pill that helped him with memory, cognition and recall. This is the real magic says Rubio, referring to Accelerin Rubio wouldn't comment but when billionaire pal Warren Buffett said, "I had to tell Marco about (product name) I mean, this is something that I've used for years, it is in fact kind of a secret because you know, it's not heavily advertised but that's what's great about it, Accelerin puts all their money into finding the most organic, pure all natural ingredients and that it, it all goes into the formula, so you kind of have to be "in the know" to get your hands on it, but I tell everyone I meet my "secret" so I guess it's not really a secret anymore.
So Accelerin is the product being shilled here. It's presented as a and claims to be "the inspiration for the movie 'Limitless'" and a "safe alternataive" to Adderall.
The article goes on to claim endorsements by Denzel Washington, Bradley Cooper and Dr. Oz, and includes a sidebar with fake covers of National Geographic and Time magazines, the latter accompanied by a fake endorsement from Tiger Woods, saying things like "I feel like I have opened up extra space in my brain."
(Oddly, those fake magazine covers reference a completely different product, "Brain Storm Elite," which may or may not be the same thing as Accelerin.)
It also claims "MIT scientist Peter Molnar" said, "We tested Accelerin Vs. Adderall with 1000 subjects, over a 10 day period and the results were shocking... Accelerin - out performed Adderall and we concluded that it was 600% more effective and subjects doubled their IQ while taking Accelerin." There is a Peter Molnar who's a scientist, but he's an geological scientist who likely wouldn't be conducting research on nutritional supplements, and he left MIT in 2001.
The web page also asserts that Accelerin is "clinically proven" to:
Sky-rocket Concentration by 32%
Improve Creative Thinking
Boost Energy
Enhance Memory Recall
Increase IQ Scores by 47%
The website concludes with an obviously bogus "verified real" comments section: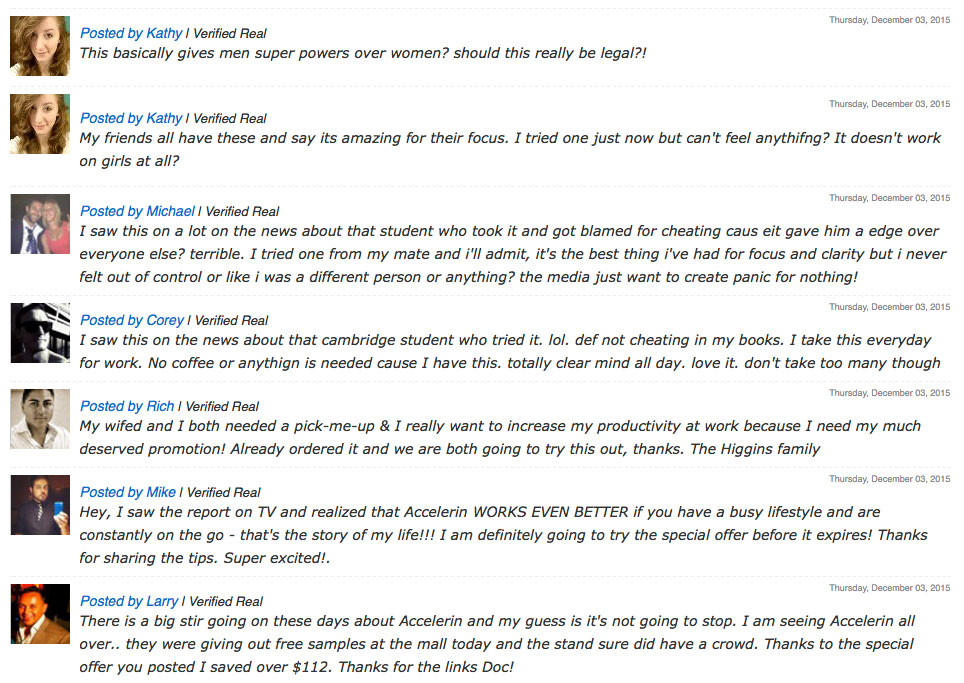 What is in Accelerin? We have no idea; the actual
sales page
for it linked in the fake "news" page claims it has "100% Pure Phosphatidylserine Complex," whatever that is. It also admits (in small type at the bottom of the page) that "The statements made on our websites have not been evaluated by the FDA."
So, we have an ad for a questionable product using wild, unproven (and unprovable) claims and almost certainly made-up celebrity and politician endorsements. (If the makes of Accelerin have proof to back up any of this, they are free to share it with us and the world.) It may sell some pills, but this and other shady supplement sellers that also peddle their pills on Newsmax -- which apparently has no advertiser standards it's interested in enforcing -- sure doesn't make Newsmax look like a credible place to get information from.
Posted by Terry K. at 3:23 PM EST
Updated: Friday, December 4, 2015 3:24 PM EST