MRC's Double Standard on People Depicted As Simians In Editorial Cartoons
Topic: Media Research Center
So the Media Research Center has gotten all outraged over a Washington Post editorial cartoon (since pulled) that depicted the children of Ted Cruz as monkeys (since, according to cartoonist Ann Telnaes, Cruz is exploiting his children in his presidential campaign).
Which is fine -- the cartoon is certainly worthy of criticism. But we recall a time the MRC wasn't terribly bothered when editorial cartoons depicted people as simians.
In 2009, the New York Post ran an editorial cartoon seemingly depicting President Obama as a chimp who was shot dead by the police, with one of the policemen saying, "They'll have to find someone else to write the next stimulus bill."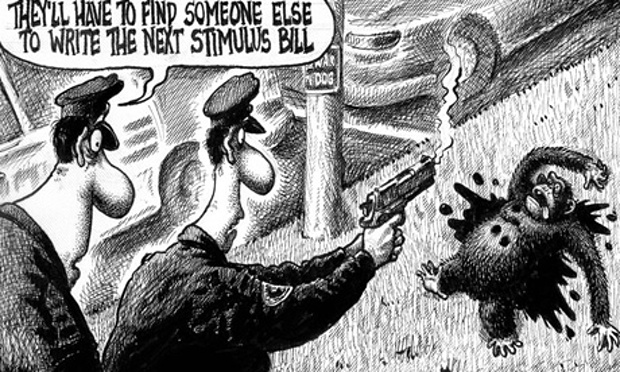 This caused no shortage of outrage, and the Post itself ran a
tepid apology
while denying any racial intent.
The MRC, meanwhile, wasn't bothered by it all. The only reference to it we could find at the MRC was a NewsBusters post by Noel Sheppard, who went out of his way not to make a judgment about it while insisting the cartoon was really inspired by "a pet chimpanzee was shot to death by police in Connecticut." Sheppard asked, "Is this cartoon over the top or a good satire given all the attention the Post has paid to the chimp story?" He added "Bonus questions: If Obama was white, would media be so upset? Or what if Bush was still President, and he signed porkulus, would there be any outrage over this?"
So forgive us if we think the MRC's outrage is less than sincere. The double standard is just too blatant.
Posted by Terry K. at 2:14 PM EST