NewsBusters Blogger Has A Meltdown Over Obama Hanging Out With Bear Grylls
Topic: NewsBusters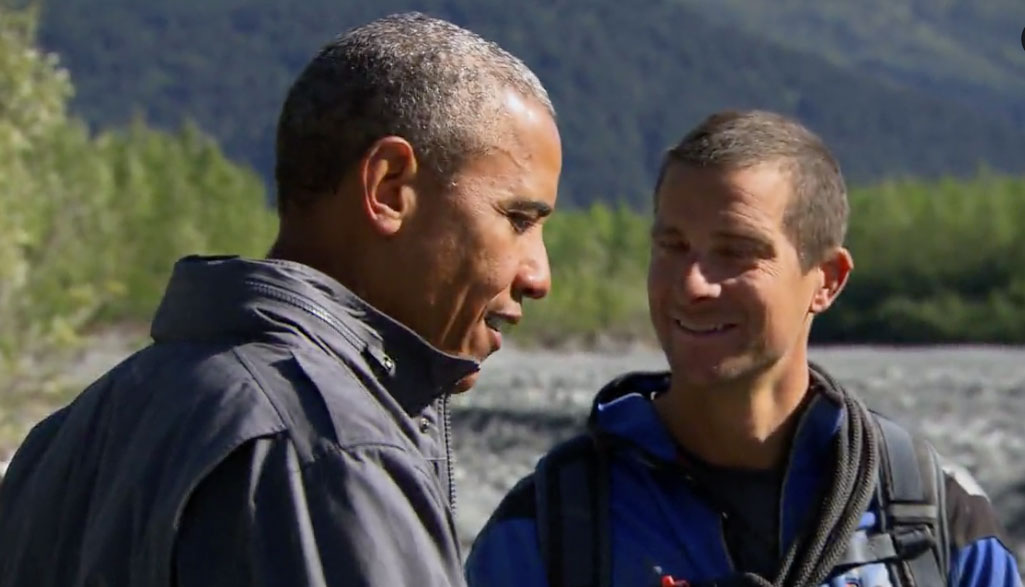 Dylan Gwinn rants in a Dec. 18 NewsBusters post:
So, if you were playing a drinking game where you took a shot for every time Bear Grylls congratulates President Obama on saving the world during Thursday night's episode of "Running Wild with Bear Grylls," I hope you filled out a will before doing so. Because you are no longer alive.
The real question is: How much was Gwinn drinking while he wrote this post? Because this is just the beginning of Gwinn's spittle-flecked freakout over Obama's appearance on Grylls' program.
Gwinn starts off by sneering that "I would be remiss if I didn't give President Obama an opportunity to relay to you how hard he thinks he works," adding: "This is coming from the same President who may have logged less suit time and office time than any President in U.S. history, considering that he in six years, had played over 7 times as much golf as George W. Bush had in his entire presidency."
But the link Gwinn offers to back up that claim also points out that Bush had taken roughly three times as much vacation time as Obama had. And, really, isn't vacation time a much more accurate indicator of "suit time and office time" than playing golf? Gwinn won't answer that, of course, because it doesn't jibe with his anti-Obama agenda.
But Gwinn starts seriously freaking out when Obama and Grylls talk about global warming:
Up until this point I hadn't been playing the drinking game. But after this scene I desperately wanted to start. This is beyond nauseating. Obama credits his global warming advocacy to his belief in science, which is "indisputable" when it comes to global warming. Okay, let's work with that.

One of the main thrusts of this episode was exposing Obama to the Harding Ice Field in Alaska, America's largest ice mass that covers more than 300 square miles. Yet, according to the show it has shrunk by 812 feet since 2008, which is coincidentally also just before Obama became President. Which means this glacier has been dying on Obama's watch. Though Bear didn't ask Obama if he felt any sense of responsibility for adding to the glacier's misery by flying an Osprey, multiple helicopters, and driving over a dozen large SUVs up to the glacier, essentially dumping an obscene amount of CO2 all over the already suffering ice.

I'm sure he meant to though.

Nonetheless, what Bear Grylls or any other thinking human could have asked Obama, if they wanted to gauge his true respect for science, is how he can say the scientific evidence is "indisputable," when there are multiple other glaciers in Alaska that are advancing for the first time in recorded history? Like Alaska's Hubbard Glacier that has been measured at advancing as much as 7 feet per day.
As FactCheck.org points out, the Hubbard Glacier is an anomaly; it's growing because of local conditions. Meanwhile, 90 percent of Alpine glaciers, of which the Hubbard is one, are shrinking, and Alaska's glaciers as a whole are losing 75 million tons of ice every year.
Gwinn concludes by huffing, "But why mess with a well-scripted narrative?" Nope, Gwinn definitely does not want to do that, especially when it comes to right-wing dogma on climate change.
Posted by Terry K. at 1:46 PM EST