Newsmax Advertiser Now Using Hawking, CNN To Sell Dubious Supplement Pills
Topic: Newsmax
Remember a week or so ago when we highlighted a Newsmax ad for "brain pills" that featured an obviously fake endorsement by Marco Rubio on an obviously fake news website? Well, our shady advertisers are back with a different fake endorser on a different fake website -- and Newsmax still doesn't seem to care.
This time out, the ad blurb on the Newsmax "feed network" reads, "Stephen Hawking Says This Smart Pill Is Proven to Double IQ." This time, readers are taken to a page that doesn't even really try to look like an actual CNN website page -- the URL readers "cmn.com--news.info" -- leading with this fake endorsement from Stephen Hawking: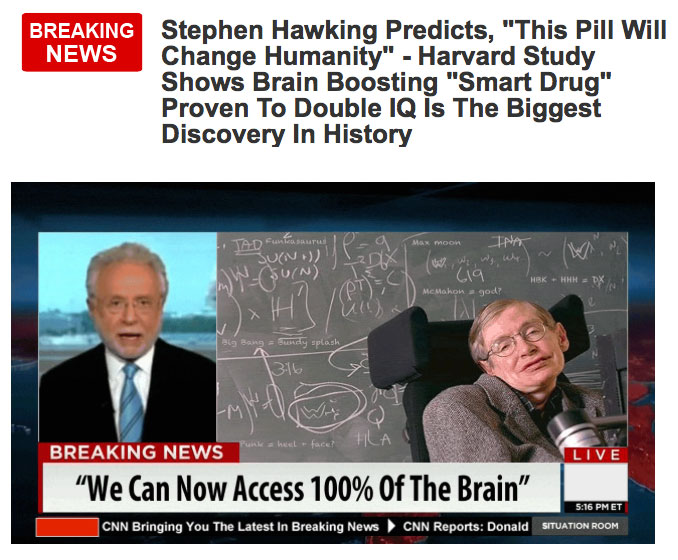 The product's name this time is Geniux, which is probably the same thing as the "Accelerin" promoted in the Rubio ad. The page even ropes in CNN's Anderson Cooper for his own fake endorsement: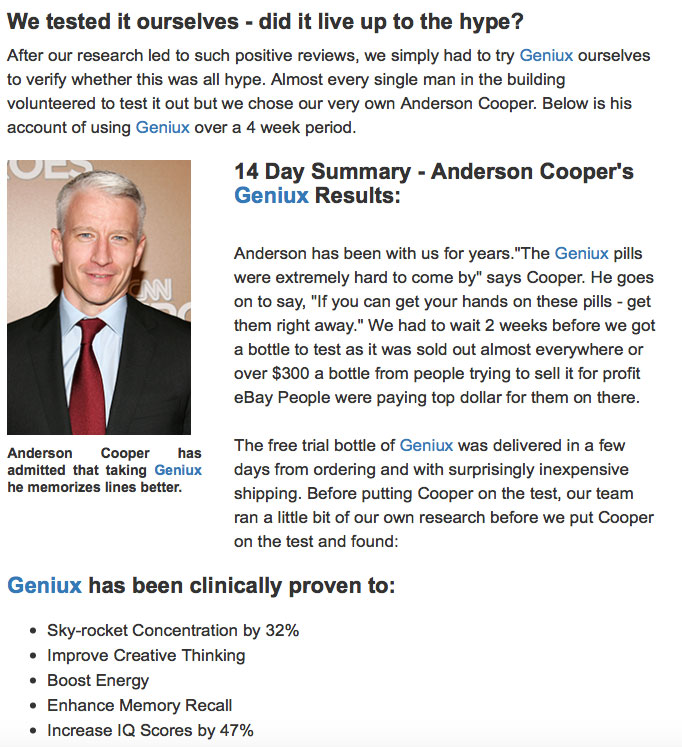 The ad repeats a fake endorsement from Denzel Washington, but also adds Bill Gates and Elon Musk. At the bottom of the page is a bunch of fake comments designed to look vague like a Disqus thread.
The actual product pageis even more vague than the Accelerin page about what, exactly, is in its little brain pills. There's a link at the bottom of the page that states "Click here to find evidence of a test, analysis, research or study describing the benefits, performance or efficacy of product ingredients based on the expertise of relevant professionals." But when you click on the link, it returns a listing of what it calls the "components of the nutraceutical formula found in The Geniux Brain Supplement," and that "one or more of the components in The Geniux Brain Supplement formula were present" in the referenced studies. It references bee pollen extract and tyrosine, neither of which are exactly known for their energy and memory-enhancing properties. And the two tyrosine-related studies examined their effects on phenylketonuria, an inherited disorder.
So, again, Newsmax is using its former syndicated news feed to promote a supplement of questionable value using fake celebrity endorsement. Are there no standards at Newsmax?
Posted by Terry K. at 8:23 PM EST