MRC Complains About Coverage Of Speech Obama Hadn't Given Yet
Topic: Media Research Center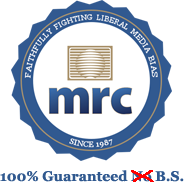 A Sept. 10 Media Research Center item by Curtis Houck carries the headline "ABC, NBC Ignore Lack of Specifics in Previewing Obama's ISIS Speech." Houck goes on to write:
On Tuesday night, ABC's World News Tonight with David Muir and NBC Nightly News omitted from their coverage any mention that President Obama's upcoming speech to the country on Wednesday night will not include some crucial details on how he plans to go about defeating the Islamic terrorist group ISIS.
Think about that for a second. The MRC is criticizing coverage of a speech that, at the time Houck's item was posted, hadn't been given yet.
The hook for Houck's item was a claim by CBS' Major Garrett that the speech "appears short on specifics." Still, that's pretty thin gruel, and it shows just how desperate the MRC is to invent any excuse to attack Obama.
Posted by Terry K. at 9:41 PM EDT