CNS' Jeffrey: CPAC Must Censor Atheists
Topic: CNSNews.com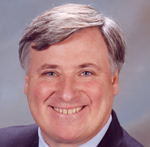 CNSNews.com editor in chief Terry Jeffrey continues to do his boss' bidding -- specifically, his war on CPAC for inviting an atheist group to take part -- by turning an earlier blog post into a full-fledged column explaining how good an idea is that CPAC (and its operator, the American Conservative Union) censor views it doesn't agree with because Reagan:
Are atheism and promoting atheism consistent with American — let alone conservative — values and principles?

The operational policy of the American Conservative Union now appears to contradict Ronald Reagan's view on this.

Reagan believed atheism was not merely wrong, but the enemy of freedom. The ACU has functionally adopted the position that groups promoting atheism can be featured at its annual Conservative Political Action Conference — so long as they promote godlessness with civility.
Strange to see the head of a so-called "news" organization advocate censorship of viewpoints.
Posted by Terry K. at 12:48 PM EST