MRC Can't Stop Freaking Out About A Boy's Painted Toenails
Topic: Media Research Center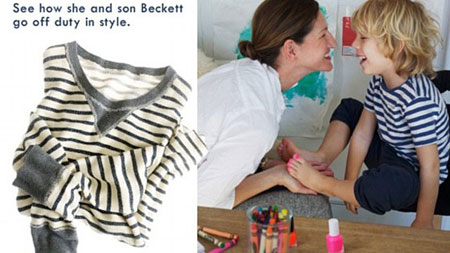 It seems that a boy's painted toenails is being for the Media Research Center's Culture & Media Institute what George Allen's "macaca" remark is for the MRC's Tim Graham -- a touchstone of obsession.
Last year, CMI freaked out about an ad for clothing retailer J. Crew that featured a picture of the one of the company's designers painting her 5-year-old son's toenails pink, ranting that this was "blatant propaganda celebrating transgendered children." CMI showed no evidence that it ever considered the concept that both young boys and girls like bright colors.
Later that year, CMI decided that its transgender fearmongering was vindicated when the female designer reportedly romantically linked to another woman.
That brings us to a Nov. 15 CMI post by Lauren Thompson, which reports that the designer "appears to have come out as a lesbian." Thompson also defends CMI's toenail freakout, declaring that "social conservatives' concerns that J. Crew was exploiting and normalizing the feminization of the boy with 'blatant propaganda'" were legitimate.
How does painting a boy's toenails equal "normalizing the feminization" of him? Thompson never explains, yet feels the need to add, "Move along, no agenda here, right?"
The only agenda we see is the gay-hating one of Thompson and the MRC.
Posted by Terry K. at 2:46 PM EST
Updated: Friday, November 16, 2012 2:58 PM EST