CNS Publishes, Then Deletes, Anti-Obama Propaganda Piece
Topic: CNSNews.com
On June 1, CNSNews.com published the following "news" article by Patrick Burke that read more like a Romney campaign oppo-research hit piece:
President Barack Obama is holding six separate fundraisers in the Midwest on Friday, June 1 -- the same day the Labor Department reported the May unemployment rate ticked up to 8.2 percent from 8.1 percent.

On this day in 1984 -- when President Ronald Reagan also was running for re-election -- Reagan announced that the May unemployment rate had dropped to 7.4 percent.

When President Reagan announced the lower May unemployment rate on June 1, 1984, he was on his way, not to a fundraiser, but to Western Europe, to promote peace and democracy in the Cold War era.

"Some good news for the economy tonight," Peter Jennings, the late ABC News anchorman, announced on his June 1, 1984 broadcast, citing the drop in unemployment. Jennings noted that the unemployment rate was at its lowest level since 1981, and he called it "good political news for President Reagan."

"It means real people in every category of the labor force are going back to work." The report led the June 1, 1984 "World News Tonight" broadcast.

Upon arriving at Shannon Airport in Ireland on June 1, 1984 President Reagan delivered remarks, praising Irish heritage in the United States and expressing optimism for peace among democratic nations:

"We're beginning a mission to strengthen ties of friendship and cooperation among the world's leading democracies. It's our deepest hope and our earnest conviction that we can make genuine progress together toward a safer world, a more prosperous world, a far better world," said Reagan.

Later that week, he visited Normandy Beach to commemorate the 40th anniversary of D-Day, and he also attended an economic summit in London.

On June 1, 2012, President Obama planned to speak at Honeywell -- an official presidential visit, which means taxpayers pay for his transportation.

According to the White House, he will deliver remarks "urging Congress to act on the 'To Do List'" -- legislation Obama favors and Republicans oppose.

Once the official Honeywell visit is over, President Obama will devote the rest of the day and evening to fundraisers, which the White House describes as "campaign events."

From the White House schedule for Friday, June 1, 2012:

1:15 PM - The President delivers remarks at a campaign event
1:50 PM - The President attends a campaign event
2:25 PM- The President attends a campaign event
3:20 PM - The President departs Minneapolis, Minnesota en route to Chicago, Illinois
4:20 PM - The President arrives in Chicago, Illinois
6:10 PM - The President delivers remarks at a campaign event
7:25 PM - The President delivers remarks at a campaign event
8:55 PM - The President delivers remarks at a campaign event
But if you go to the page now, you'll find that the article has been deleted. The CNS tweet promoting the story is still live, though.
It's also still in Google cache, however, and it has been highlighted on other websites.
Here's a screenshot of the story -- note the "news" designator at the top: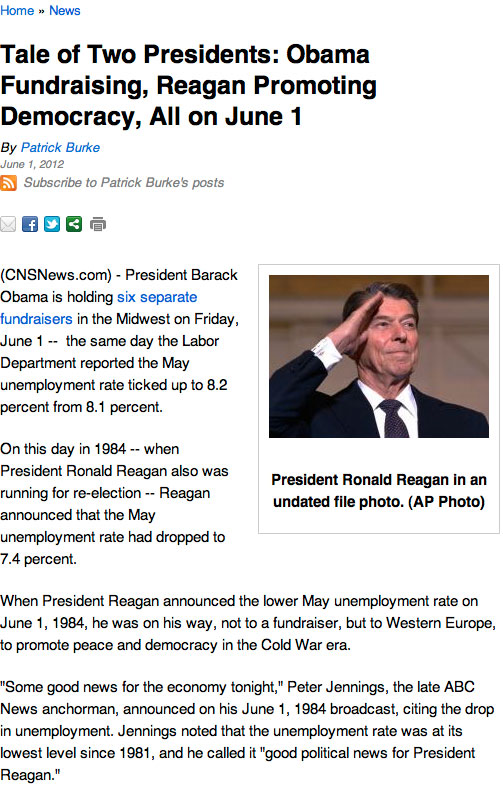 Why did CNS delete this story? Perhaps because even CNS -- as
rabidly anti-Obama
as it is becoming, serving as the propaganda wing of the Media Research Center -- realized it couldn't ignore the blatantly partisan nature of Burke's "news" article.
There is no news value to Burke's piece; it exists only to attack the president and, by extension, promote Mitt Romney's Republican presidential campaign. As such, there's a potential conflict with federal laws governing 501(c)3 non-profit organizations, which forbids open advocacy for a political candidate. CNS is a division of the Media Research Center, which is a 501(c)3 group.
Does this mean that Terry Jeffrey and Co. will start to rein in its work as an anti-Obama propaganda mill? Unlikely, but we shall see.
Posted by Terry K. at 10:38 AM EDT