CNS Rewrites AP Headline to Bash College Students
Topic: CNSNews.com
Newsmax has a history of editing the headlines of wire-service articles to reflect its right-wing bias. Now CNSNews.com has decided it wants in on some of that biased action.
A Dec. 15 Associated Press article on Tufts University providing therapy dogs to stressed-out students during final exams, was released with the headline "Tufts Uses Dogs To Ease Student Exam Stress." But that's not the headline CNS put on its copy of the article; it went with "Coddled Students Getting Quirky 'Therapy' to Ease Stress of Final Exams."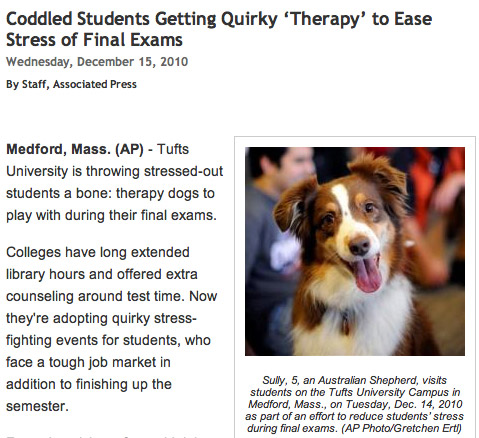 The article itself makes no mention of criticism of the therapy dogs, and nowhere does it attack students as "coddled." CNS has simply chosen to add bias to an article it didn't write by changing the headline to reflect its apparent view that students seeking to relieve stress during finals are worthless and weak.
Oh, and liberal too. Check out the comments left on the article by CNS readers:
The weakness exhibited by these students is appalling. I went to college and law school at night while working full time (to pay for it) and with a family to support. What will these poor little children do the first time the rent is due?
And just who is going to coddle these students when they get out into the workplace and find even more stress when faced with multiple responsibilities between the job and family?

Pressure? Liberal educational institutions do not like to address the pressures of life. They are more interested in promoting thier socialistic agenda. The students will be no more suited to realistic workloads and multitasking than they will be to run for president. Oh wait, never mind.
Probably paid by taxpayers money.
That last commenter got it wrong; Tufts is a private university.
Posted by Terry K. at 10:35 AM EST