Newsmax Steals False Drudge Headline
Topic: Newsmax
The headline at the top of Newsmax's "Newsfront" section on April 6 looked strangely familiar: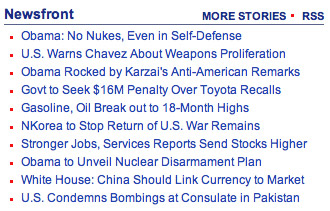 It turns out we had seen it before:
Not only did Newsmax steal a headline from Drudge, the headline itself is false. As the Associated Press article to which Newsmax links explains (which carries the accurate headline "U.S. Unveiling New, More Restrictive Nuclear Policy"), Obama would permit the use of nuclear weapons in certain situations.
Note to Newsmax: If you're going to steal someone else's headline, make sure the headline is accurate.
UPDATE: Newsmax doubles down on the lie by making Drudge's false headline its lead story: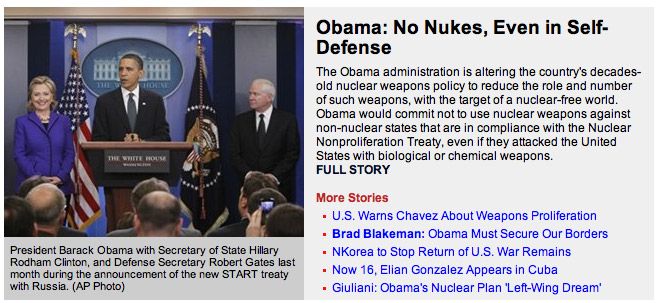 Posted by Terry K. at 10:24 AM EDT
Updated: Tuesday, April 6, 2010 2:34 PM EDT