Newsmax Calls Obama's Recess Appointments -- But Not Bush's -- 'Sneaky'
Topic: Newsmax
Newsmax continues its tradition of putting biased headlines on non-biased wire articles with a March 27 Associated Press article about President Obama's recess appointments, which carries the Newsmax headline: "Sneaky: Obama Makes 15 Appointments without Senate Approval."
The original AP headline states, "Obama makes 15 recess appointments, scolds GOP."
Newsmax continued the bias in its front-page promotion of the AP article: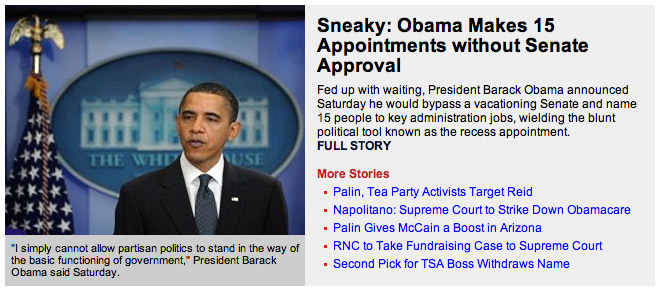 By contrast, Newsmax did not use adjectives such as "sneaky" to describe the Bush administration's use of recess appointment. To the contrary, it was portrayed as necessary to go around obstructionist Democrats:
At no point did Newsmax call Bolton's appointment "sneaky." Thus, it has no basis to label Obama's recess appointments as such.
Posted by Terry K. at 12:55 PM EDT
Updated: Monday, March 29, 2010 9:02 AM EDT