Newsmax: Bean Swastika = 'Domestic Terrorism'
Topic: Newsmax
The following teaser headline (at botom) appeared on the Newsmax front page on April 27: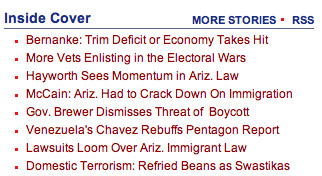 That's strange, because the words "domestic terrorism" appear nowhere in the AP article that Newsmax headline links to noting the "refried beans in the shape of swastikas on the state Capitol's windows" in a protest against a hardline anti-illegal immigration law in Arizona -- heck, even the headline at the top of the article doesn't mention it.
It's also strange because the last time Newsmax referenced swastikas, it was criticizing Nancy Pelosi for mentioning that they were anti-health care reform protesters at congressional town hall meetings.
An Aug. 6 article by Dave Eberhart huffed that Pelosi "alleged this week that some of the hecklers at the pro-Obamacare town hall meetings around the country with carrying swastikas." And an Aug. 7 article complained that "The mainstream media were quick to jump all over conservative talk radio host Rush Limbaugh when he likened President Barack Obama's healthcare logo to a swastika and compared the Democrats to the Nazi" but "were much quieter about Democratic House Speaker Nancy Pelosi's reference to a swastika when she claimed that hecklers at a pro-Obamacare town hall meeting were carrying swastikas." Though Newsmax was loath to admit it, Pelosi's allegation was absolutely true.
Newsmax didn't call those protesters "domestic terrorists," however.
Posted by Terry K. at 12:02 AM EDT