MRC's Philbin Parrots Boss Bozell, Tries to Change Subject From Limbaugh
Topic: Media Research Center
Following in the footsteps of his boss Brent Bozell's capitulation to whatever hold Rush Limbaugh has on the Media Research Center is the MRC's resident misogynist, Matt Philbin, trying to change the subject away from Limbaugh's sleazy words just like Bozell did:
Liberals and the media continue to be upset about Rush Limbaugh's comments, despite his public apology. Limbaugh's comments, we're told, were "unforgivable."

That's laughable coming from those who've ignored or excused attacks from the left against conservative women like Sarah Palin, Michele Bachmann, Michelle Malkin, Ann Coulter and Carrie Prejean. Liberals slime conservative women regularly, usually in language far worse than Limbaugh used. And they are seldom, if ever, held to account for sexual, violent misogynistic speech. Conservative women – whether pundits, politicians or even politicians' wives – are fair game to the left.
Even as he detailed offenses by liberals, Philbin couldn't bring himself to repeat what Limbaugh actually said about Sandra Fluke.
Not that he objects in any way, mind you. Philbin has endorsed Limbaugh's sleazy attacks on Fluke -- he's tweeted that "Rush's prob was semantic. Shoulda said 'Woman of dubious reputation,' 'horizontal laborer' or 'Lincoln Tunnel Hitcher,'" also writing, "Anybody got Fluke's mailing address? I'm gonna send her a big Costco-sized box of condoms."
And Philbin is not done sliming Fluke. He has since tweeted: "Lawschool in your 30s, kvetching on "The View," calls from the prez, free BC so you can sleep around w/impunity. Some #waronwomen."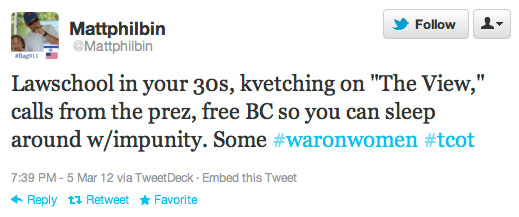 And this is the person selected by the MRC to lecture liberals on offensive behavior? No wonder Bozell can't bring himself to offer any real criticism of Limbaugh -- the culture inside the MRC headquarters is apparently as anti-woman as it is at Limbaugh's studio.
Like Craig Bannister, whose hateful CNS blog post inspired Limbaugh's three-day flight of misogyny, Philbin's position at the MRC is secure ... woman-bashing and all.
Posted by Terry K. at 10:02 AM EST