Even After So-Called Apology, MRC Still Won't Criticize Limbaugh
Topic: Media Research Center
Well, Rush Limbaugh has finally decided to offer a so-called apology for his denigrating attack on contraception hearing witness Sandra Fluke, made only after advertisers fled in horror from Limbaugh's radio show. Limbaugh's claim that "I did not mean a personal attack on Ms. Fluke" is utterly laughable; he apparently wants us to believe that calling Fluke a "slut" and a "prostitute" was not a personal attack.
How is the Media Research Center -- which has defended and echoed Limbaugh's insults of Fluke for committing the offense of speaking in public about birth control -- taking this? Pretty much the way you'd expect.
NewsBusters' initial post on Limbaugh's statement regurgitated his insistence that his real concern is "over the contraceptive mandate and the larger erosion of personal responsibility and accountability through federal mandates that social costs for personal expenses onto taxpayers or employers.
NewsBusters' Noel Sheppard went on a tirade after the Huffington Post's story on Limbaugh's statement used the headline "Rush Caves," never mind that a half-hearted apology buried on the weekend after three days of impugning Fluk, coming in the face of a successful advertiser boycott, really can't be described as anything other than a "cave."
Sheppard huffed that HuffPo criticized Limbaugh for "doing what it believed was the right thing to do." Note that Sheppard narrowly described Limbaugh's statement as only what HuffPo "believed was the right thing to do," not that it simply was the right thing to do, which strongly suggests that Sheppard doesn't agree with that sentiment.Sheppard goes on to whine:
This is so typical of liberal media outlets.

They bash conservatives for everything they do, think, say, or advocate, and when one actually reconsiders his behavior, they ridicule him for "caving."
Remember that at no point until Limbaugh's statement did Sheppard or any other MRC employee express the opinion that Limbaugh's behavior needed to be reconsidered.
And, really, they still haven't. Sheppard went on to highlight Newt Gingrich criticizing NBC "Meet the Press" host David Gregory for beginning their interview "by asking him about contraceptives and Rush Limbaugh." Sheppard touted how Gingrich "correctly" pivoted the issue from Limbaugh to the right-wing talking point that the question of contraception is not a women's health issue but a religious freedom issue.
Sheppard also promoted a FoxNews.com column by Kristen Powers, "one of the many intelligent, reasonable, liberal contributors to Fox News," claiming that Limbaugh isn't the only "media misogynist." In neither post does Sheppard criticize Limbaugh's behavior -- rather, Sheppard praises Limbaugh's apology, which he claims "should diminish accusations of his misogyny."
Sheppard went on to complain about Penn Jillette saying that "I think it would be a nice gesture if [Limbaugh] were to send Sandra Fluke one of his sex tapes," ignoring the fact that Limbaugh himself opened this line of inquiry by demanding that Fluke post sex videos of herself online.
In another NewsBusters post, Brent Baker conceded that Limbaiugh "didn't have any defenders ... not even amongst the conservatives." Still, Baker wasn't about to offer criticism of his own, because he has talking points to deliver: "Of course, Limbaugh's comment only deflected attention from Obama's antagonism to religious liberty because the news media eagerly pounced to push liberals efforts to make Limbaugh the issue."

Meanwhile, MRC employee Matt Philbin -- who had previously said he wanted to send Fluke " a big Costco-sized box of condoms" -- keeps up Limbaugh's slander by tweeting, "Rush's prob was semantic. Shoulda said 'Woman of dubious reputation,' 'horizontal laborer' or 'Lincoln Tunnel Hitcher.'"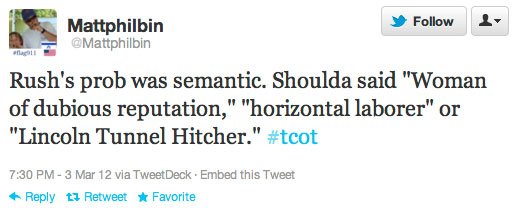 If the MRC won't criticize Limbaugh's misogynism, Philbin certainly won't face any sanction from his employer. Sexists of a feather and all...
Posted by Terry K. at 10:08 PM EST
Updated: Sunday, March 4, 2012 10:27 PM EST