Noel Sheppard: "Sober People Don't Need Birth Control" (It's A Joke!)
Topic: NewsBusters
NewsBusters' Noel Sheppard writes in a Feb. 16 tweet: "If contraceptives R 2 B covered by health insurance shouldn't alcohol since sober people don't need birth control?"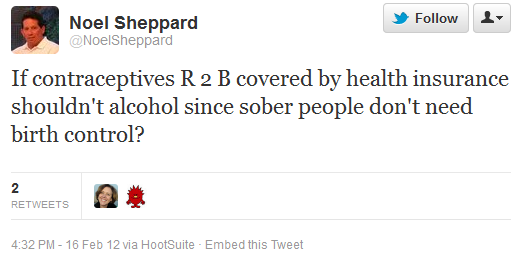 This is immediately followed by tweets insisting that he was joking:
"It's called a joke, dude. Go rent a sense of humor."
"You're into comic books and you can't tell a joke when you see one? Now THAT's entertainment!"
Sheppard has yet to explain where exactly the humor is in his "joke," espeically on a day when prominent right-wing financier Foster Friess was apparently not joking when he insisted that a little aspirin between your knees was an effective contraceptive.
Posted by Terry K. at 4:54 PM EST