WND's Corsi Claims Investment Firm Fired Him Over Story He Wrote
Topic: WorldNetDaily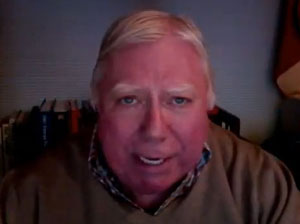 Over the past few days, WorldNetDaily's Jerome Corsi has been taking a break from birther conspiracy theories and kissing up to Joe Arpaio to peddle a claim from a former employee of the bank HSBC that the company took part in "an international money-laundering scheme." Corsi thought so much of thisstory that he appeared on Alex Jones' video webcast to promote it.
Now, according to a Feb. 14 WND article, Corsi is claiming that Gilford Securities, "a Manhattan investment firm that serves institutional and retail clients" where Corsi worked as a "senior managing director," has fired him over the HSBC story. Corsi, of course, is quick to blame the victim, and he offers no actual evidence that his dismissal is retaliation for the HSBC story:
Corsi said Gilford notified him Monday that it would file a U-5 form with the Financial Industry Regulatory Authority, or FINRA, to deregister him from the firm due to "corporate reorganization."

Gilford Securities declined comment to WND.

Corsi said the firm is responding to his series of reports on the charges of former HSBC manager John Cruz. The whistleblower has provided WND with 1,000 pages of customer account records he claims are evidence of an international money-laundering scheme by HSBC, which reportedly is under investigation by a U.S. Senate committee.

"I was completely blindsided by the reaction of the firm to the HSBC stories," Corsi said. "I thought Gilford would be proud that a member of the firm had sufficient courage to do the right thing – make public and report suspected money laundering activity when first hearing about or learning about credible allegations, regardless what firm the allegations involved."

Corsi noted that he never made any accusations about Gilford and was not investigating anything related to the firm.

"I pointed out to Gilford that firing me could create a chilling atmosphere where others in the firm might think twice before reporting suspicions of money laundering," he said.
We have no idea about the veracity of the HSBC story. We do, however, know about the veracity of Corsi, and that alone is enough to raise red flags about it.
Corsi has spent the past couple of years peddling his birther conspriacies, suppressing inconvenient facts in the process. Most recently, he has been cranking out hagiographic stories about Joe Arpaio in the apparent hope that his "cold case posse" will return a pro-birther result. Both of these are egregious journalistic violations.
This raises another question: Why was Corsi so poorly compensated as a WND "senior staff writer" that he had to get a second job? Is Joseph Farah really that cheap?And it's not like that Gilford appeared all that happy to be employing him; much of his WND work while employed at Gilford required a disclaimer that "The views, opinions, positions or strategies expressed by the author are his alone and do not necessarily reflect Gilford Securities Incorporated's views, opinions, positions or strategies."
Given that Corsi seemed to be spending a lot of his time running around the country peddling birther nonsense, when did he have time to do his job at Gilford?
Corsi and WND seem to have ignored, deliberately or otherwise, the possibility that Gilford got tired of having to associate itself with a nutjob like Corsi.
Both Corsi and WND have a track record that tells us we should not take this story at face value. Or anything that comes from them, really.
Posted by Terry K. at 3:05 PM EST
Updated: Wednesday, February 15, 2012 3:16 PM EST