MRC's Gainor Retweets Terrorist Sympathizer
Topic: Media Research Center
Media Research Center of president for business and culture Dan Gainor issued this retweet: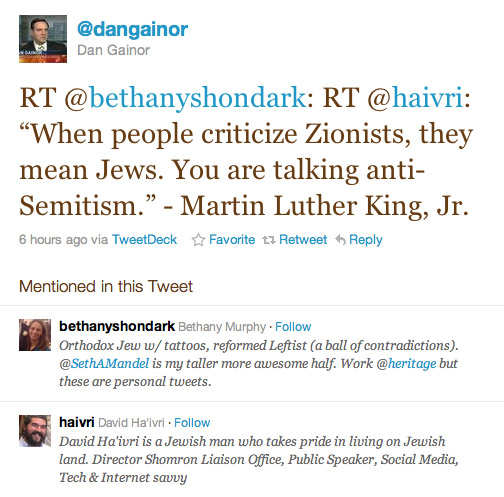 While the message being conveyed isn't controversial, the person who originally made it very much is.
As we've detailed, David Ha'ivri is a far-right Israeli activist who has organized numerous protests at Jerusalem's Temple Mount, the ancient site of a Jewish temple that is now the site of a mosque. Eden Natan-Zada -- the AWOL soldier who slaughtered four people on a bus in Gaza in 2005 -- joined in one of those protests before he committed his massacre.
Ha'ivri was a follower and sympathizer of the Kach/Kahane Chai movement -- he's also a brother-in-law to the son of movement founder Meir Kahane. which has been outlawed in Israel for its links to anti-Arab and anti-Palestinian violence. And Ha'ivri refuses to condemn such violence; Ha'ivri appeared in a 2007 CNN documentary on religious extremism in which he refused to criticize a plot by Jewish extremists to detonate a bomb outside a Palestinian girls' school.
Additionally, according to the New York Times, Ha'ivri celebrated the assassination of Israeli prime minister Yitzhak Rabin and has served a six-month jail term in connection with the desecration of a mosque.
In short, Ha'ivri is a terrorist sympathizer, if not an actual terrorist. This is hardly the kind of person who deserves attention. Too bad Gainor didn't check him out before retweeting him.
Posted by Terry K. at 10:05 PM EST