WND Pretending It Didn't Get Burned On Birther Claim
Topic: WorldNetDaily
WorldNetDaily is doing its best to pretend it didn't get burned when its story that radio celebrity gossip Mike Evans claimed that Hawaii Gov. Neil Abercrombie told him that he couldn't find a copy of Obama's birth certificate in Hawaii state records went bad.
First, WND pretended it didn't happen. While it linked to the FoxNews.com article in which Evans retracted his claim, for a good while today that article appeared on its front page below Jerome Corsi's original faulty story and a separate version of it on Fox Nation: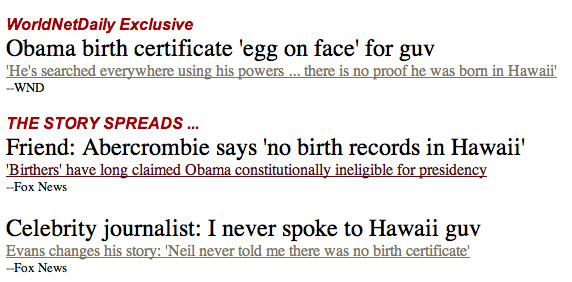 In other words, WND played up the faulty story over the correct version.
Then, WND cobbled together a follow-up written by Bob Unruh, in which Evans vowed on a radio show featuring Jerome Corsi -- who wrote the original article uncritically repeating Evans' claims without bothering to fact-check them -- that he would talk to Abercrombie about it.
Meanwhile, Corsi's original article remains live and uncorrected, nor does it offer a link to Evans' retraction.
But that's the way WND rolls -- it generally doesn't correct anything, no matter how false, unless it's threatened with a lawsuit or if it can make the faulty article disappear quietly.
Posted by Terry K. at 10:32 PM EST