Molotov Mitchell's Idio-Arrogance (And Projection)
Topic: WorldNetDaily
Molotov Mitchell starts off his latest WorldNetDaily video by smearing Feisal Abdul Rauf, the imam who wants to build an Islamic center near the site of Ground Zero in New York, as "buddy-buddy with terrorists and a security threat in his own right," adding that he "simultaneously claims to build bridges while protecting his terrorist buddies as they blow them up." Mitchell then claims Rauf embodies a "combination of arrogance and idiocy that makes what I like to call idio-arrogance."
Then, ol' Molotov demonstrates his own idio-arrogance -- or more accurate, projection -- by explaining what it means to be "sharia-compliant":
Day one: If we're going to whip this country into sharia shape, we gotta deal with the gays first and foremost. Because under sharia law, homosexuals get the death penalty, so we'll need to form a new mujahadeen death squad to go and find Barney Frank, Rachel Maddow, that California judge who overturned Prop 8, the other California judge that just recently attacked don't ask, don't tell, as well as any gay entertainers because Allah does not like the show tunes. Throw in half the women in the Democratic Party, and we're off to a healthy sharia start.
Um, isn't that pretty much the same thing that Mitchell himself wants? As we've detailed, Mitchell has repeatedly engaged in gay-bashing and even endorsed a proposed Uganda law that would execute people merely for being gay -- after all, he's on record as favoring the "abolition of homosexuality."
Even Mitchell's graphics show projection: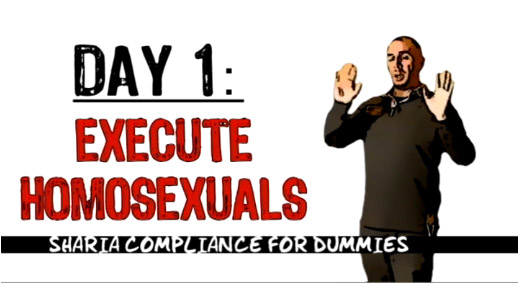 Is Mitchell denouncing sharia law -- or wishing he could get away with it? We report, you decide.
Posted by Terry K. at 9:16 PM EDT