MRC Downplays Racist Attacks On 'Rings Of Power,' Whines It Wasn't Masculine Enough
Topic: Media Research Center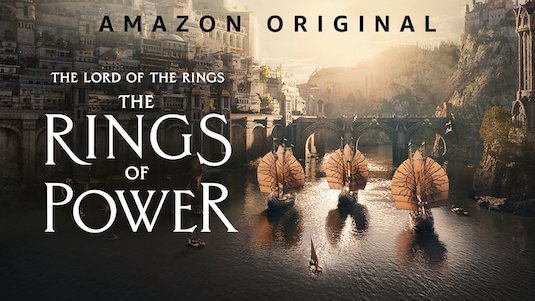 A Sept. 7 post by Stephanie Hamill began by whining:
Not a fan of the new Lord of the Rings TV series? Well then, you might just be a racist or a bigot according to some on the left.

Apparently, you can't give an honest review about Amazon's The Lord of the Rings: The Rings of Power without being called a racist or bigot because of Middle-earth's new more "diverse and gender-balanced characters."

You see, movies and shows that have the right amount of diversity appear to be off limits when it comes to critiques about the quality and content, or at least that's what it seems like these days.
After citing someone calling out right-wing trolls for launching vicious attacks on the series because some of the dwarves were not white -- even though J.R.R. Tolkien put implied racial undertones into his Middle-Earth that would make a depiction of some underclasses very much true to canon -- Hamill tried to frame these racist attacks as mere concern about "integrity":
So what some J.R.R Tolkien fans were concerned about was whether or not the new series on Prime Video would respect the integrity of his legendary work. Which is a legitimate concern considering many of us have noticed how Hollywood producers tend to ruin sequels and remakes when they focus on skin color and woke messages rather than the story and production value, among other things.
So being against racism is being "woke" instead of a commonsense position every sentient being should have?
Hamill then tried to downplay the idea that racist trolls were spamming review sites with bad reviews, insisting they were really concerned about content:
But the release of the episodes clearly didn't get the reaction and reviews Amazon was hoping for. So much so that Amazon halted reviews to prevent trolling. According to the Hollywood Reporter an Amazon source told it that reviews are being held for 72 hours to "help weed out trolls and to ensure each review is legitimate."

It's very possible that this is a sincere effort to combat internet trolls, but this also could just be a ploy by Amazon to hide bad reviews.

Now over at Rotten Tomatoes the situation isn't much better for Amazon, as The Rings of Power has an average audience score of 39 percent, which is rather interesting considering the TV critics gave it a score of 85 Percent.

As for what some viewers aren't liking about the show? Well, the reviews and responses on social media vary.
Now we move on to the narrative Hamill really wants to push: the show's males aren't masculine enough. She uncritically quotes Elon Musk tweeting that "Almost every male character so far is a coward, a jerk or both. Only Galadriel is brave, smart and nice," as well as her own tweet calling the show "wokified" without offering any examples beyong an accompanying picture of a black character. (The MRC has a bit of a thing about masculinity.) She continued to insist this, and not racism, was the real issue the trolls have:
These were just a few examples, if you go through social media and read the reviews you will find that the majority of people didn't actually take issue with the new diverse characters. Those who weighed in were complaining a lot about the plot, the dialogue, the special effects, the list goes on.

Either way, the series drew more that 25 million viewers according to Amazon, making it the biggest premiere in the history of Prime Video.
Hamill touted those review-bombed low ratings again in a Sept. 19 post:
The Lord of the Rings: The Rings Of Power's fourth episode, 'The Great Wave,' was released on Friday, September 16, which means we are now halfway through the new Lord of the Rings series' first season (of a reported five), and it doesn't look like things are getting much better when it comes to the reviews of Amazon's latest high profile show.

Things have gotten so bad that The Rings of Power is comparable in low user ratings to the Disney+ series, She-Hulk: Attorney-at-Law on not only movie and TV review site Rotten Tomatoes, but also Metacritic.

But not so much, Metacritic users are giving the series an unfavorable user score of 2.4 out of 10. And over at Rotten Tomatoes, the audience reviews are still hovering in the upper 30's (out of 100), which hasn't changed since the release of the first two episodes.

If you compare the numbers to She-Hulk, you will notice the two series have strikingly similar marks, high critic scores and low audience reviews.

The Disney+ series has been described as a "woke, feminist mess" by Newsbusters contributing writer Elise Ehrhard, and I couldn't agree more.
Yes, the MRC did heavily whine about "She-Hulk" being "woke," whatever that is.
Hamill was also still insisting that it's not racist for online trolls to complain that the existence of non-white races in the show, and you're part of the "woke mob" for even pointing that out:
Some in the media and the "woke mob" have been labeling those with legitimate critiques about the series as "racists," including some of the hosts over at The View who went off on those who weren't gushing over the 'The Rings of Power' and other new shows with diverse casts.

You see, no one is allowed to have a negative opinion about the series because of Middle-earth's new more diverse and gender-balanced characters - or at least that's what is seems like.

The problem with this idea is that it's intellectually dishonest. You're not by default an angry racist because you don't like the new series. Those who are going along with this notion clearly aren't listening to what viewers are complaining about in regards to the new Lord of the Rings series, which Kain perfectly describes in his article.
The problem with Hamill's line of logic is that complaining about the show's "diverse and gender-balanced characters" is very much a racist and sexist criticism -- something to which Hamill is (perhaps deliberately) oblivious.
Hamill spun again in an Oct. 16 post, whining that the "beta male" characters was really the most "common" criticism of the show"
The first season of The Lord of the Rings: The Rings Of Power has come to an end, with the eighth episode titled, 'Alloyed,' airing on Friday, October 14. I must say it's been a long journey filled with disappointment and too many cringeworthy moments to count.

Now one of the most common complaints among J.R.R Tolkien fans and popular critics was that male characters were portrayed as 'weak' and 'cowardly' throughout the series, among other things.

[...]

I think it's safe to say that most of us don't take issue with strong female characters in shows - I certainly don't. That being said, it would be nice if there was a little balance, right?

The key to good fiction is believability, and one could argue that the writers of Rings of Power focused on cramming in the woke feminist agenda, in turn, throwing plausibility out the window.

In this Amazon series you get the sense that the writers wanted you to know that women are stronger, smarter and better than men. It felt forced to say the least, which lead to a plethora of cringy, awkward, and unrealistic looking scenes — filled with beta males.
Hamill once again insisted that none of the criticism of the show could possibly have been racist:
You see, no one is allowed to have a negative opinion about the series because of Middle Earth's new more diverse and gender-balanced characters - or at least that's what is seems like.

Those who are accusing critics of 'racism' are dishonest and lazy. Want proof? Take a look at the difference between audience scores for The Rings of Power and House of Dragon.

The House of Dragon is also a high-profile, fantasy TV show with a diverse cast, and it happens to be hugely successful, with an average audience score of 84 percent on Rotten Tomatoes.

So it appears the so called 'racist backlash' against Rings of Power actually had nothing to do with the new diverse cast and more to do with the plot, the dialogue, the special effects, the list goes on.
Note to Hamill: Complaining about the show's "diverse and gender-balanced characters" is an inherently racist criticism, and if you're still whining about that, all the attempts to distract from said racism by huffing about "beta males" and citing reviews of a completely different show (in which she assumes without proof that the two shows appeal to exactly the same audience) doesn't change its racist nature.
Posted by Terry K. at 11:43 AM EST
Updated: Sunday, November 27, 2022 12:17 AM EST